An abandoned concrete building, awaiting demolition, may seem, at first glance, to be an unlikely place to find a musical trailblazer. But it is here, in a studio a few steps away from the Magdalenstraße U-Bahn, that Blazej Malinowski, 37, spends countless hours every day, working away in a small room filled with both vintage and highly advanced equipment.
One of the leading names in Poland and Germany's electronic music scene, Blazej Malinowski has been holed up in what he calls his "safe space" throughout the pandemic, and the more he talks about his relationship with his studio, the more it makes perfect sense to have found him there. "Even when I feel uninspired," he tells me, "I believe that I'll be able to create something new in this space soon enough. During these tough times, I work every day and that is what gives me the inspiration to move forward."
The building itself seems to resonate with the name he gave his record label – Inner Tension. "The title came to me one day and it just felt right. It was the title of the record that I dedicated to my daughter and it also reflects the type of music I would like to release." The eponymous track was released on The Gods Planet label in 2014. Malinowski also organizes parties under the Inner Tension banner.
Like many others in the electronic music scene, Blazej Malinowski's creative passion is deeply rooted in his childhood. Born in Toruń, a small town in communist Poland, Blazej developed a fascination for vinyl records at a young age. A child of the '80s, he entered his teen years in the '90s, immersed in the rhythms and beats of hip-hop, that came out of 1970s New York block parties and was soon heard blasting out of sound systems and stereos all over the world. He came of age as hip-hop was exploding, the arrival of the genre's "album era," with more and more artists worldwide able to access the affordable technology—turntables, samplers, and drum machines—to launch themselves in the scene.
But it wasn't until the young Blazej Malinowski encountered House music for the first time that his vision for his music really took off. "It was after discovering House music that I found my way into much more interesting sides of electronic music for me personally, with techno as its core."
As the spirit of Chicago's underground subculture began making itself known in Poland, Blazej Malinowski developed an ear for deep basslines and new mechanical beats. A trip to America in 2002, aged 20, was another important catalyst for his career. "That trip has had a huge impact on my life, even today… back then it was impossible for me to afford turntables in Poland, so that was the only solution for me to pursue the music in terms of playing records elsewhere, and nowhere could feel more utopian than America, the birthplace of house music and techno."
It was in America where, by working at Lake Tahoe casinos and making countless sandwiches, the aspiring artist could finally make enough money to have a spending spree at Amoeba in San Francisco, buying up second-hand records by the likes of Jeff Mills, DJ Premier, and Mixmaster Mike.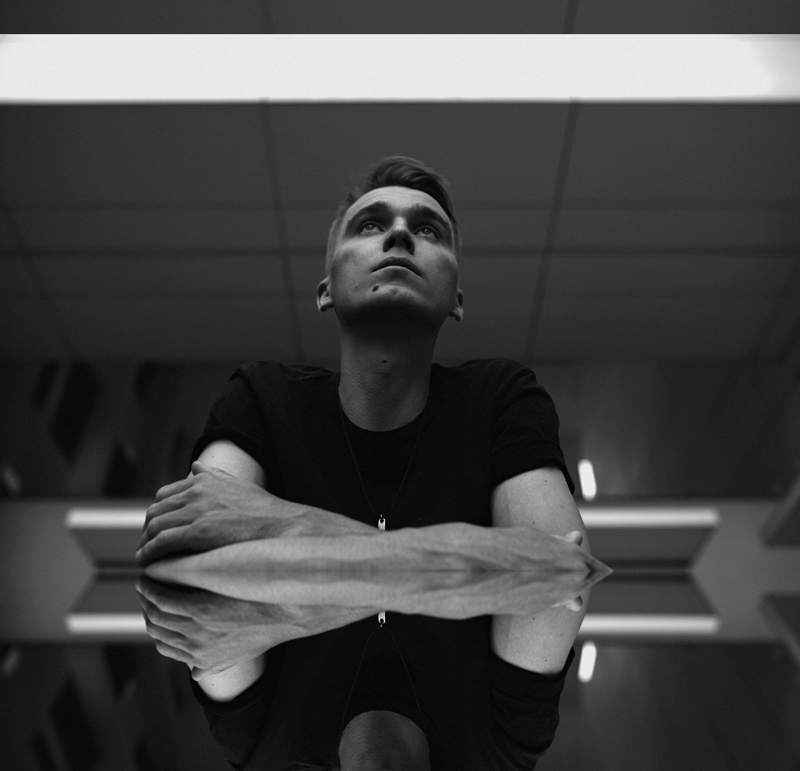 Jeff Mills in particular would have a crucial influence on Blazej Malinowski, not just artistically but in developing his ethos too. Known as The Wizard, Mills remains one of the most influential techno producers, with roots in Detroit, the birthplace of techno, where Blazej himself had the opportunity to play in 2017. Mills is the mastermind behind Axis Records, a world-renowned label putting out most of the records that Blazej bought in San Francisco in those early days. But it was his approach to music that struck a chord with Blazej, particularly Mills' belief that "nothing has proven to be more vital than the creation of music itself."
Malinowski was drawn to the questions at the heart of Mills' work: "Who are these people that translate these otherworldly ideas to create such sounds and rhythms for us?" asks Mills. "How much of what we hear is attributed to the producer's personality itself? What do they see and believe?"
Blazej Malinowski's artistic vision similarly champions the act of making music, above acclaim or financial success. "Of course, label owners can pick tracks and we can talk about the features of the record, but I never changed my music to make it a good fit for release. My personal music development is very much the outcome of a natural process. I always wanted to make music that feels right to me."
The music that felt right to him happened to be just what clubbers and listeners were after. He returned home from America to find a thriving underground music scene in Poland's capital, Warsaw—a city that "changed everything" for him. He started off in his bedroom, without any fancy equipment, just "with records and turntables." Together with his friend Michal Wolski, he began to promote his own parties and play in clubs. The pair initiated the FünfeStrasse Projekt and had their own show on Radio Kampus. DJ sets and live acts followed, until an endorsement from Silent Season, a Canadian electronica label, catapulted him onto the global stage as a producer. This led to an invitation to work with the Technosoul collective, who enabled him to play at amazing venues such as 1500m2 do wynajęcia, Nowa Jerozolima, Das Lokal, and many others, since long gone.

He really likes the collaborative side of the business, between artists, labels, and producers who respect each other's unique qualities and ideas. Collaborations with The Gods Planet, Silent Seasons, and Semantica Records have been key to the evolution of his signature hypnotic sound: "I never make music to fit in a specific label and I was, and have been, lucky enough that some labels shared my vision and approach. Semantica is one of my favorite labels of all time." He has also learned a lot from the other artists around him, like Jacek Sienkiewicz: "I always looked up to Jacek, who is for me, until this day, one of the most important people in the Polish scene."
Moving to Berlin six years ago opened up new gateways in Blazej Malinowski's personal and professional life. A family adventure soon grew into something much more meaningful, strengthening friendships old and new with producers and DJs, such as Claudio PRC and Ness, with whom he has collaborated closely on The Gods Planet and Semantica Records. Although Poland was the crucible for his artistic identity and first ideas, life in Berlin has been an "eye-opening experience with meaningful inspirations to develop the techno scene back in Poland"—a scene which has continued to thrive over the years: "Over the past 15 years, the Polish scene became, in my view, a very strong part of its culture, and I cannot be happier that it shaped me as a DJ, producer and a person."
The pandemic may have silenced nightclubs—Berlin is eerily quiet at night, no sonic reverberations bouncing off steel and concrete, no pulsating dancefloors and hedonistic crowds—but Blazej's studio is alive with noise. When I arrive, on a hot summer's day, he is putting the finishing touches to the latest installment of his Why So Silent series, in which he creates original scores for classic silent films.
This June, he returned to his homeland to perform for the first time since the world shut down. The project can be seen as a fitting soundtrack to his career, perhaps—a bridge between his past and present, between Germany and Poland, between the old world and the new—a reminder of his mutability and intuition as an artist, whose music shifts to echo and bring out the feelings of different places at different times. Pounding beats for noisy dancefloors, intricate layers for quieter minds. You are just as likely to hear his music in clubs and house parties, as in cafes, bookstores, and people's homes. Writers like myself dive into his sets for hours for concentration and inspiration.
In the music industry, where peripheral and innovative artists are often sidelined by mainstream commercial sounds, electronica occupies a diverse and eclectic space that allows individual artistic visions to thrive. When so many artists and musicians have been hit by the pandemic, it is a testament to Blazej Malinowski's ethos that he is set to tour with such exciting new work—a reminder that creating work you love, because you love to create it, will be far more enduring than selling your vision for money or fame.
I talked to him about his artistic life and career, and about his journey from the early days of his childhood to his currently ongoing projects. He shared untold stories about how he was shaped by—and now strives to help shape—the underground electronic music scene in Europe and beyond. That interview is presented in full here, only lightly edited for clarity.