Formed in the early 1990s during the halcyon days of Oscillate club in Birmingham, the Higher Intelligence Agency project by Robert Bird evolved out of sight in a live setting, improvising live tracks between records during his experimental electronic music nights at the club.
Bird is a self-taught musician who started playing guitar in bands at the age of fourteen. In addition to playing guitar, he went on to develop an interest in sound production and electronic music composition, releasing several albums under his Higher Intelligence Agency alias. These include solo albums: Colourform (1993) and Freefloater (1995), as well as many collaborative albums with Norwegian composer Geir Jenssen (Biosphere), the late Pete Namlook, and Deep Space Network.
After a two-decade hiatus, Robert Bird is back with Higher Intelligence Agency. Starting with his Discatron EP in 2020, and this year's full-length LP, Song Of The Machine, an album based on recordings of 250-year-old beam engines—originally conceived as a large-scale octophonic live concert performance.
This summer Bird will be playing at numerous events and festivals with HIA, including a performance at Terraforma in Milan among others, where he will perform a grooved-based electronica set drawing from new and recently released material as well from his classic '90s albums. For this occasion, Bird offered us an exclusive mix and thoughts on his work, influences, legacies, and his future projects.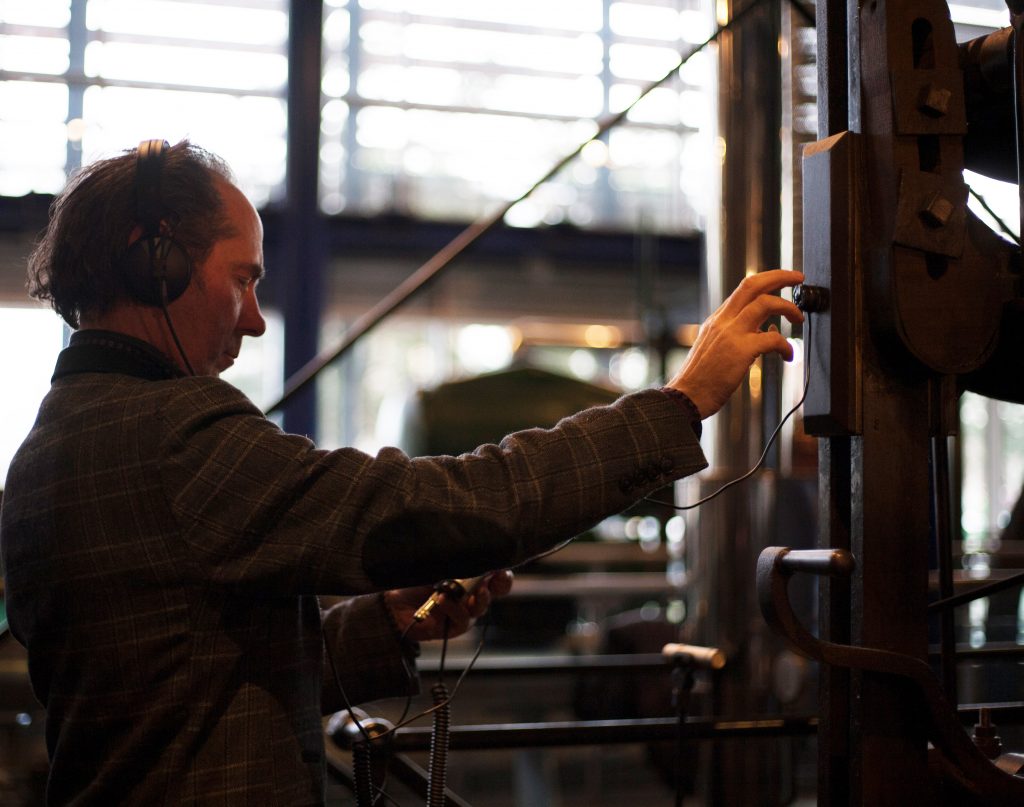 Let's go back in time to where it all started for you as Higher Intelligence Agency. Were there certain movements or legacies that had an influence on you?
Robert Bird: I can go right back on this one, to the Jukebox in the cafe which my mum ran when I was growing up. This was at a time when late-night cafe culture still existed in Birmingham, and it was an interesting place for a kid to be around, with all sorts of different people hanging out there, even the local Hells Angels frequented it, playing the pinball machines.
So there were lots of sounds, the coffee machine, the pinballs, the people, and this incredible valve jukebox. I remember hearing "Revolution" by The Beatles on it for the first time, I must have been around 10, and it just sounded awesome. The sound of it, in particular, that's what I remember most, it really struck me. Plus the screaming and the guitars at the start!
The next thing I remember hearing that made a big impact, was "Voodoo Chile" by The Jimi Hendrix Experience. This was in my elder brother's van, where he had a portable 45 vinyl player called a Discatron, and it just blew me away. It was like he'd created his own universe with sound.
I called my recent mini-album track Discatron as a homage to that moment in time.
The list goes on from there really, but Syd Barrett, Ska, Blue Beat, Radiophonic Workshop, and the Barry Gray Orchestra, all played some part in these early years. I think the first electronic album I really got into at that time was An Electronic Storm by White Noise. Someone just handed it to me one day, I can't remember who, with an "I think you should listen to this."
So these were early influences.
Then, after years of playing guitar in various bands, and also getting into sound production, and dreaming of one day building my own studio, but never imagining I'd ever be able to afford one, in the late '80s came the home studio revolution.
Advances in technology made equipment more affordable, Akai samplers, the Fostex 8 track reel to reel, digital FX processors, and Atari computers. I started to see people I knew using this equipment, for instance, Ranking Roger, who I was working with at this time, had an Atari ST and an Akai sampler and I learned a lot from watching him use these.
All of a sudden, the idea of having my own studio became more within reach, I realised that you could build a hybrid studio, part analog, part digital, and this is what I began to do towards the end of the '80s. Also, the late '80s to the early '90s were a great time to pick up analog synthesizers & drum machines on the second-hand market. Digital synths were the latest thing then, and nobody wanted their Juno 60s or TR 808s anymore.
In the '90s, Oscillate club in Birmingham played a pivotal role to you and your music. Can you tell us more about it and how it all began?
RB: In the early '90s, I attended Fun-de-Mental parties in London. These were all-night underground parties in a maze of rehearsal rooms, where DJs and live acts played in a seamless mix, partially hidden away behind a screen. Acts like Orbital, Ubik, Pressure of Speech, Headspace, Ramjac Corporation, Pentatonik, and DJs Stika, Charlie Hall, and others, all mixed by Mickey Mann (Pressure of Speech / Orbital sound engineer).
At this time I'd co-formed a band doing a crossover mix of electronics/guitars/sampler/vocals, but after experiencing Fun-de-Mental I knew I wanted to focus purely on the electronic side of things, and HIA evolved.
I didn't want to just lock myself in my studio, I also wanted to be able to develop the music in a live setting, where I could connect with people, and this would be a part of the creative process, like a feedback loop, so then when you're back in the studio, in a way, you'd bring that vibe and all those people with you.
I mentioned the idea of starting our own electronic music night to my partner Scylla and she went out and found our first venue, a tiny 80-capacity club in the center of town. We invited a few others, whom I'd been in various bands with before, to join us in this venture, and Oscillate began.
I'd bring my synths, sampler & mixer, and I'd hire in a couple of subs to augment the rig. We'd play vinyl and drop the odd live track here and there or improvise. We didn't make a big deal out of it, no one would know that HIA was performing live tracks, and this freed things up because you knew that no one was looking at you, you're not the star of the show, the stars of the show are the beats and the frequencies coming out of the speakers, and everyone's tuning into that, because you've kept out the way basically, you're not making a big deal out of performing.
For me, Oscillate was about connecting with people through frequency and rhythm, like the dance hall or the dub sound system, a cultural event for an evolving community of electronic music listeners and performers.
In between your two solo LPs, Colourform and Freefloater; you were also featured in Warp's seminal Artificial Intelligence series. How did these sounds and artists align with you musically?
RB: When we started Oscillate, we only had a few records between us that we felt would align with what we wanted to play, and Artificial Intelligence was one of them. After hearing this record, we contacted Autechre and invited them to come along, which they did and then returned to play some of their early live sets. Steve Beckett from Warp came too and asked HIA to write a track for Artificial Intelligence II.
We were also introduced to Richard Kirk through this series, he came to Oscillate and afterward did some releases as Electronic Eye on the Birmingham Beyond label, who first released HIA tracks on their Ambient Dub series.
Can you tell us more about your approach to music?
RB: Playful, instinctive, connecting through the HIA filter.
When I was a kid, I borrowed a Wem Copicat to plug my guitar through. I was playing with it late one night when all of a sudden a distorted voice started echoing through the tape heads and it scared the living daylights out of me. It was only later I realised that this was most likely interference from the radio of a passing taxi.
My approach hasn't changed, I'm still experimenting with stuff.
Do you see a certain transmission of musical legacy from this period to nowadays?
RB: For me, music is all about transmission, so there are certainly lineages that can be drawn from then to now.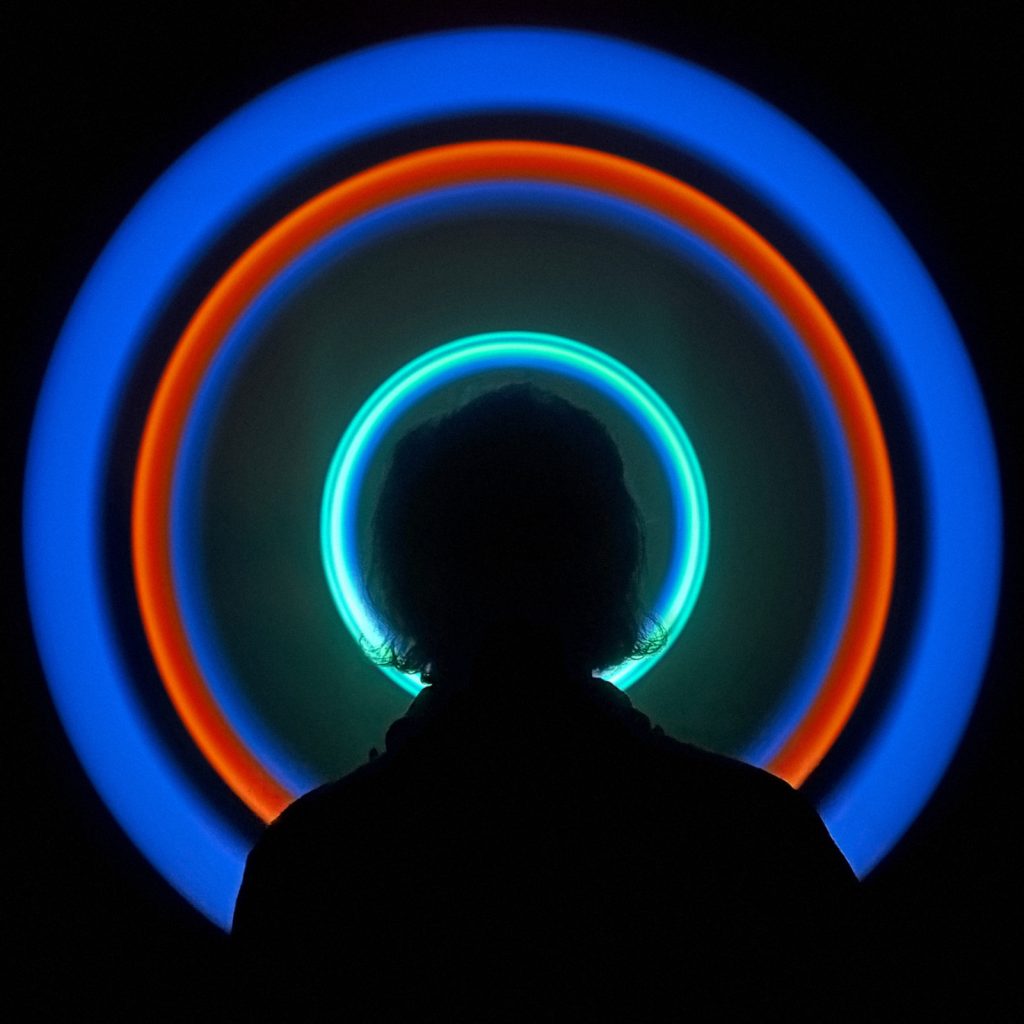 After a 20-year break from releasing music as Higher Intelligence Agency, you're back with Discatron EP and the latest album, Song of the Machine. What made you come back to this project again?
RB: The '90s were pretty intense, I put all of my time into HIA / Oscillate and felt like I needed a life outside of that. Oscillate took a break at the same time too.
However, I was still active over this period. I started to get into Max/MSP and spacial audio, creating multi-speaker installations for festivals and galleries, while HIA still did occasional live performances, such as at the Detroit Electronic Music festival in 2007, plus tracks for compilations & remixes.
Aside from this I was raising a child, and was one-fifth of Modulate AV collective, exploring live processed audio-visual.
I also converted a truck into a camper and traveled about in it, often to home education camps, as my son skipped institutionalised education until the age of 16. They are now at the Royal Birmingham Conservatoire, studying composition. I may ask them for some tips!
So yeah—I was putting my energies into other things.
Then in 2017, Oscillate was reignited, initially as a one-off, when Orbital came to play at Beyond The Tracks, a festival in Birmingham City Centre where HIA has also performed. This was 24 years after HIA & Orbital had first played together at Oscillate, and to mark the occasion we put on an after-party. So many people came out to this, who then pressed us to continue to put on more Oscillates, that we started to seriously consider doing so.
Around this time also, Scylla was starting to plan an exhibition celebrating the club. This took place in 2018 and aside from a physical exhibition of flyers, magazine articles, artworks, and photos (plus an awesome live performance from Pole), I created the Oscillate Digital Music Archive from DAT recordings of live sets performed at the club in the '90s. This was quite an endeavor—some of the tapes were on the verge of disintegrating!
Listening back to these recordings took us right back to being at these events and those times, which also helped renew our enthusiasm for Oscillate to come back, with as before, HIA at the helm. Between 2018-2020 (before lockdown pressed the pause button), we presented a series of events, this time, in some funky community spaces rather than in clubs. The feedback loop got reconnected and Discatron emerged.
Your latest LP Song of the Machine is said to be based on recordings of 250-year-old beam engines. Can you explain more about it and the idea behind the album?
RB: Song of the Machine is just one facet of a larger project called Watt's Orbit, an Octophonic performance/installation that I first begun working on in 2016.
As a teenager I used to wag school because I found it boring, instead, I'd spend time in the Birmingham Museum of Science and Technology. These huge machines were in there, I didn't quite realise then what they were or what they used to do, but I knew that they were part of Birmingham's history. They were designed by the Scottish inventor and engineer James Watt, who moved to Birmingham to develop his beam engines at the Soho Foundry in Smethwick. He also had his own workshop in Handsworth, where he made inventions including a copying press (an early form of photocopier), a tachometer, a micrometer, the rotary engine and flexible water lines. His entire workshop is now in the London Science museum.
Years later, after I'd been developing various multi-speaker sound systems and installations, I had a moment one day when was walking past a church near where I live, inside which James Watt is entombed, and the idea for the Watt's Orbit project dropped into my head virtually fully formed.
I was imagining the sound these engines make being almost like a heavy dub track, with the high end going clickety click click tick tick tick then – BOOMF! – the big thump, like a kick drum in a one drop beat traveling at 13 BPM.
And it's similar to a sequencer in a way, with all those valves opening & closing, and the levers moving in sequence, but they are also a bit loose, so every revolution is a slightly different rhythm.
I thought the only way to accurately represent the sonics of these huge beam engines would be through a hefty Octophonic surround sound system with a wide frequency range, where you could shake the ground with sub sonic frequencies while also representing the fragile side to them, and the intricate engineering, which was revolutionary for the time.
So, we set about raising funding for this project, and I begun to record four of these great engines, still in working order after almost 250 years. Each of the machines was a one-off, with their own distinct character and sound, every part, screw, nut and bolt hand made, specific to that engine.
After working with these recordings, the first performance of Watt's Orbit took place in St. Mary's Church Handsworth, the audience seated within a circle of inward facing speakers, sounds moving in all directions around them, sub frequencies passing through their bodies, shaking the pews, rattling the stained glass windows, gently disturbing the dust of James Watt in his tomb.
So, Song of the Machine is taken from Watt's Orbit, but it's only a part of the story.
I am hoping that in the future Watt's Orbit will be commissioned to be performed live again, in all its large-scale Octophonic glory.
What can we expect from Higher Intelligence Agency in the future?
RB: Stay tuned! Hopefully another Higher Intelligence Agency album within the next 20 years!
Tracklist
01. Solid Motion
02. Spectral
03. Pink Green (Live at Baskerville Hall)
04. Banco de Gaia – Soufie (HIA Remix)
05. Harmony Angel
06. B Theory
07. Shift
08. 3P
09. Song of The Machine