Using space as a canvas, light to create movement and objects, and the power of creativity is WHITEvoid's signature.
Berlin-based artist Christopher Bauder started creating large-scale spatial art installations and lighting design after finishing his studies in the Digital Media Class at the Berlin University of the Arts. In 2004, he founded the multidisciplinary art and design studio WHITEvoid as a necessity to realise his large-scale art and design pieces and environments.
WHITEvoid studio is comprised of specialists in interaction, media, product design, architecture, and mechanical & electronic engineering. The primary focus of the projects is the translation of bits and bytes into objects and environments and vice versa. Space, object, sound and interaction are the key elements of all WHITEvoid's interactive installations and products—mainly created for museums, exhibitions, trade fairs, festivals, concerts and clubs, making the studio have numerous clients from multiple areas.
WHITEvoid is best known for the city-wide light art installation, Lichtgrenze, created in 2014, for the 25th anniversary of the Fall of the Berlin Wall. Other mesmerising projects of WHITEvoid include Fluidic sculpture in motion, Grid, a live audiovisual performance, and Deep Web a kinetic audiovisual installation in collaboration with Robert Henke. WHITEvoid has brought numerous installations and performances to events and spaces around the world, including the Centre Pompidou in Paris, The National Museum of Fine Arts in Taiwan, Museum of Design in Zurich, CTM & Transmediale Festival in Berlin, MUTEK Festival in Montreal and Mexico City, The Festival of Lights in Lyon, and other countless festivals.
The passion and commitment that WHITEvoid holds, resulted in a successful journey for the studio, projects of which have received worldwide recognition and have won several awards including the German Lighting Design Award, the Design Award of the Federal Republic of Germany, the Cannes Lions, the Red Dot Design Award and the iF Communication Design Award.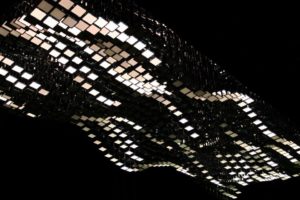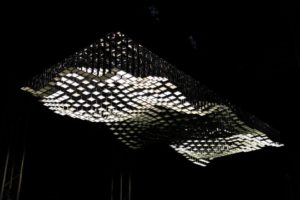 Tell us more about the changes that WHITEvoid undertook after its establishment in 2004?
After my diploma at Berlin Art School, I started out as an independent artist and design freelancer. In the beginning, I tried to do everything by myself. I programmed the software, soldered the circuit boards, built the hardware. For the first version of the Atom installation/performance, I worked alone in my model shop for six months. 16 hours a day not knowing if I will ever finish drilling those thousands of holes, soldering those ten thousand connections. After this experience, I realised I needed help from a team and that I wanted to design and build systems that are larger than one person can handle. I needed the help of a steady team of experts and professionals in their fields. Now I am happy to work with a team of highly specialised people in the fields of architecture, product design, electronics and mechanical engineering and software programming.
The turning point for WHITEvoid was when we decided to become producers and not just designers. We started to develop our own hardware with a power winch system called "Kinetic Lights" followed by various LED light elements and whole spatial installations. Lately, we added the full interior design of trade fair, event and exhibition spaces to our roster of services. This gives us the opportunity to follow a more holistic design approach, integrating space, light and interaction.
Now we are 20 permanent employees, and we have a couple of freelancers helping us to do the technical setup of our installations all around the world. We have a large studio space that allows us to experiment with all kinds of technologies like kinetic lighting systems, lasers, LEDs, OLEDs, tracking systems, projection and all kind of software development environments.
How influenced is WHITEvoid and its team by current trends? How does the advancement in technology affect your work?
We always try to be up to date with what is happening technology wise. But we never use technology just for the sake of it or because it is trendy. We are always looking for the best application for a certain technology not for the newest.
I learned that for all our installations, software and systems to be controlled by strangers, one common thing applies: They have to work without any explanation! This means that people generally like to try, explore, fail, learn, try again… but do rather not want to read instructions first. People are only open to new interaction principles if they appear to be simpler and better understandable than the ones they already know. This drives us to always push the boundaries and try out new things to solve a common problem. The existing solutions that everyone uses are not necessarily the best ones.
Back in the days, I always imagined that there should be something more to interact with than a screen, mouse and keyboard. Everything felt so flat and unemotional. Since then, I am always trying to question and reinvent the principles of how we interact with computers and how computer-generated information can be displayed outside the computer in our physical world. And here we are, working at the intersection of art, design and technology translating computer-generated ideas into real-life-objects or environments.
We work on the design of light, but at the same time on the design of space. Our work is mostly interactive, but it can also be something one can passively observe, contemplate and be astonished by. This intertwining of genres of art and design is what makes our approach special.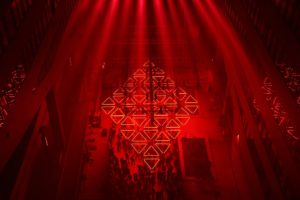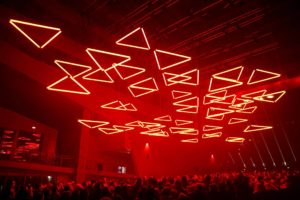 What kind of creative patterns, routines or rituals do you have as a team?
To be honest for me the ideation process works on a very intuitive basis.
I am lucky to be born with an extremely vivid three-dimensional imagination, basically an unstoppable ideas production machine. If I see, hear or experience something, I immediately and automatically get associations related or sometimes unrelated to the initial trigger. Maybe it's a chemical imbalance or a very particular wiring of my brain, who knows. The only thing I know about this kind of intuitive creativity is that you cannot teach or learn it. It's just there or not; I can't control it or turn it on or off at will.
So each project starts with a visual idea that our creative people and myself scribble and sometimes prototype first to check the general feasibility. Then we meet with the other design and engineering colleagues at WHITEvoid, discuss the storyline and bounce initial visual pattern ideas and develop the necessary technical components and software tools.
Generally, we have always been fascinated by arrays of things like swarms, herds, automated assembly lines, lots of small units working together as a unity. To design and build one module of a system seems doable and simple, but once you multiply the modules the workload, costs and complexity explode. So when we start to work on an idea, we have to be sure it's feasible in terms of cost and construction complexity. This is why we continuously prototype and calculate while we progress with the project development.
What are currently your main challenges as a multidisciplinary art design and studio?
We have to be careful to not diverse too much. We have a limited amount of people and resources available, so we have to be careful how to invest them both. Working in many disciplines at the same time always bears a risk of getting stuck with one aspect for too long and then not having enough time left for working on the other necessary aspects too. Everything has to be pushed forward and developed further at the same time.
We always have to find a balance, so the workload is evenly distributed. But we also like to pitch in and help out colleagues that have to finish a project when we have a bit less to do at the same time. So sometimes architects draw cable plans, engineers build models or prototypes, and 3D guys help setting up installations on site. This also helps everyone understand better what the team members' work is and how it's connected to what they do.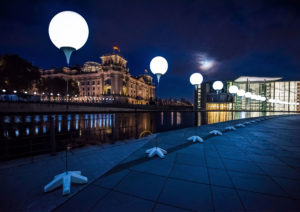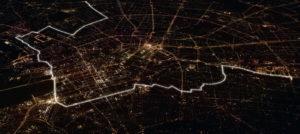 What was the experience of creating Lichtgrenze installation and how did you come up with the idea?
My brother Marc, who is a filmmaker and I came up with the idea for the Lichtgrenze together, approaching the topic of collective memory from two different sides. For me, it was clear from the very beginning that I wanted to use light as an ephemeral material to help memorise something originally as heavy and massive as the Berlin wall. My brother wanted to bring the memory of it back to its actual stretch instead of having a centralised monument or event. Berlin is still today shaped and formed by the former existence of the wall. So there is a direct correlation between the thriving cultural scene and international openness of Berlin and the existence and disappearance of the wall. So the idea was to find a temporary symbol that would represent the dividing presence of the wall for a short time in the present Berlin. Just as a reminder, not as a monument.
We chose balloons as an airy and light contrast to the hard concrete brutality of the actual wall. The installation was a very low tech but also very sophisticated at the same time. It had to appear light and simple and beautiful. But months of heavy engineering, solid mechanical and electrical development and testing were necessary to make the installation appear easy and simple. Personally, I prefer to keep outdoor installations rather simple on the technology side and rather try to work with independent units and arrays of elements or very basic inexpensive materials.
We were hoping that people would like the light installation and eventually use the opportunity to walk along the former Berlin Wall guided by its light and this way get reminded of the massive wall that separated a whole city. But we were totally overwhelmed by the actual event when hundreds of thousands of people were strolling along day and night, exchanging stories and remembering the fall of the wall 25 years ago. It had such a big impact on the whole city of Berlin. With over a million visitors on the final day for the balloon release event, this was probably the biggest public event in Berlin's history.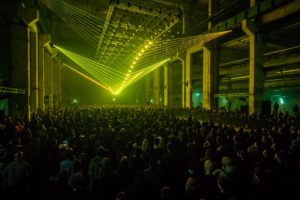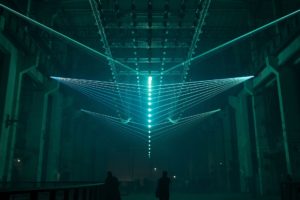 What was the most interesting design project you've ever worked on?
It's really hard to say because mostly the next project is always the most interesting to work on. But I guess Deep Web was the project that was the most interesting to create and from my perspective still the most satisfying from the feedback it received from the audience. Deep Web is a monumental immersive audiovisual installation and live performance created by composer and musician Robert Henke and myself. Presented in enormous pitch-dark indoor spaces, Deep Web plunges the audience into a ballet of iridescent kinetic light and surround sound. The work was presented at CTM 2016 Festival Berlin followed by the Festival of Lights Lyon in December 2016.
The generative, luminous architectural structure weaves 175 motorised spheres and 12 high power laser systems into a 25-meter wide and 10-meter high super-structure, bringing to life a luminous analogy to the nodes and connections of digital networks. Moving up and down, and choreographed and synchronised to an original multi-channel musical score by Robert, the spheres are illuminated by blasts of colourful laser beams resulting in three-dimensional sculptural light drawings and arrangements in cavernous darkness.
The installation brings together decades of separate research and experimentation by two artists with unique visions and passions for sound and light, and by innovative companies working in these fields.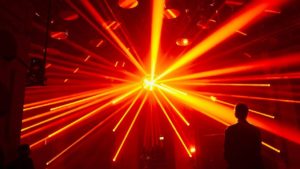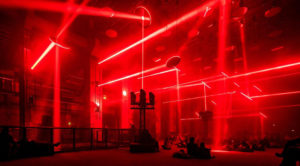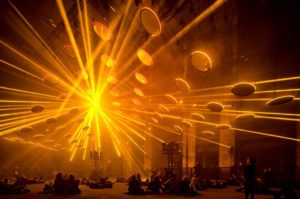 Following Deep Web instalment, another exciting project of WHITEvoid, SKALAR, was announced together with Kangding Ray. The concept of the installation revolves and explores the complex impact of light and sound on human perception. How did you come up with the idea and how did this collaboration take place?
In previous light and sound installations and performances, we based our work on abstract topics like "communication" or "the cycles of life and death." We realized that the audience responded deeply emotional to certain combinations of audio-visual stimulation. So we realized that it is indeed possible to trigger human emotions with very abstract combinations of light and sound. With SKALAR we will try to explore those possibilities even further and evoke basic emotions in repeating sets following the cycle of sadness, disgust, anger, anticipation, joy, trust, fear, and surprise.