"Art is a reflection of ourselves, the story of humanity, and a quest to understand the physical and metaphysical world." — Daniel Martin Diaz
Daniel Martin Diaz is a fine artist based in Tucson, Arizona, characterised by his unique way of representing the mysteries of life merged with the realms of science. Immersed in scientific and philosophical concepts, Diaz has been mainly fascinated with scientific diagrams which explain theories and properties through the use of images.
Diaz's style is significantly influenced by classical artists of Renaissance, especially Jan van Eyck, Pieter Bruegel the Elder, and Hans Memling. Byzantine iconography, the Illuminati, ephemera, alchemy and anatomical drawings are also incorporated in Diaz's pieces. He believes that drawing covers beauty and intimacy that paintings cannot capture, as he implied "the subtle lines that graphite creates and the quickness in which one can capture an idea makes this medium alluring."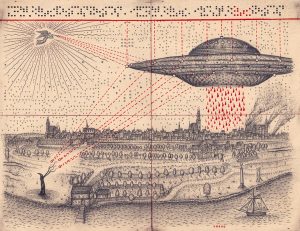 Besides his four personal art books, his work has been exhibited and published worldwide. Diaz has created numerous pieces including Soul of Science, a book containing 40 graphite drawings and several essays; Paradise Lost, a series comprised of ten drawings inspired by John Milton's poem of the same name; Quantum Reality and Cosmology; Hidden Knowledge and Enlightenment, and Romantische Naturphilosophie. With his works, Diaz attempts to capture the complexity and beauty of the underlying mechanisms that he thinks binds people in emotion, and at the same time, he aims to explore the mysteries around us, things that we don't know.