Francesco Camillo Giorgino (1979) better known for his project Millo, is an Italian street artist valued for his unique large-scale murals of curious human-like creatures. Millo mainly paints his murals in black and white and often incorporates a slight touch of colour which emphasises items like flying paper-planes, toys, cassettes, and greenery.
Depicting urban life through his creatures who seem to be enjoying their surroundings that tell a story on their own, is one of the few characteristics of Millo's art. Millo's work was exhibited in various places on almost every continent. He participated in several art festivals and NGO art events—in 2014, he won the B. Art competition which allowed him to create 13 new murals in Turin, Italy.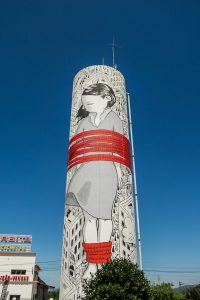 Millo combined his passion for painting with his background as an architect, which resulted in the creation of his "street wall stories" since 2010. These murals also contribute to making people's environs happier, by just changing the perception of space through painting. Even though Millo's first passion was not working with walls, the first time he engaged himself in street art influenced him to undertake his journey—from the city of Mesagne where he was born and raised, to living in Pescara and working all around the world.
Some of Millo's well-recognised work include special projects which are mainly mural paintings for famous festivals, solo shows including Disturbi—his first show, Clumsy, and Nero, and group shows such as his latest one in the US, Duality.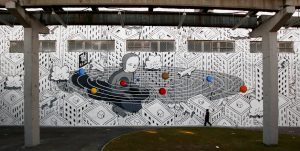 Do you remember your first interaction with art? What influenced you as a kid—an event, artist, or something else?
I was born in Mesagne, a small city in the province of Brindisi in south Italy, where I attended a science high-school before moving to Pescara and graduating in architecture.
Mesagne is a very small city, and at that time was very important to be focused on something after going to school, so drawing was my something. I had no other example in my family, and I cannot say why it happened, but it had been like a safe haven to me.
Art was at that moment and still is, the only thing that makes me feel happy and satisfied… that's why at a certain point in my life I could not ignore this feeling, and I start to put all of my efforts into it.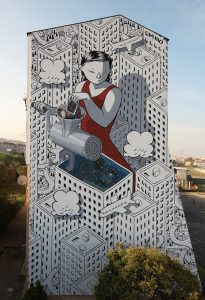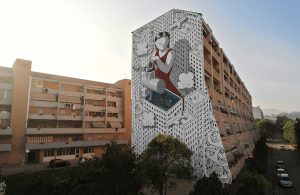 Can you tell us more about the process of your work? How long does it take for you to create a mural?
I usually realize my works with the help of a crane, first of all, I realize a small sketch of the character with a long pole and a brush at its end, just to place him or her on the wall, then with my brushes I start to draw hand free all the clouds, planes, streets and buildings. From the moment I'm up on the crane usually it's only me, the wall and the brushes for 5 – 6 days.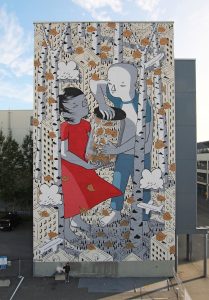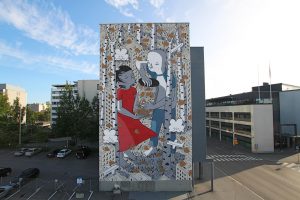 Can you highlight what your greatest challenges were transitioning from an architect to a street-mural artist and painter? How did your background as an architect shape the work you do today?
For me, urban art was like an unexpected step. I started producing urban art on materials other than walls, and I have to say that the first time I was assigned a mural, I experienced something incredible. The result was simple and neat, and this led me to understand that I was able to do this on a surface as big as a wall.
In Italy, we have faced, and we are still facing strong economical crises that probably accelerate my process of being focused only on art, and gradually art took over.
I started taking on fewer architecture projects and devoting more and more time to art and on the realization of pieces. I think that my studies helped me to focus better on what I would have loved to analyze and from what I realize now, it's quite clear that the relationship between the human and the architecture plays an important role.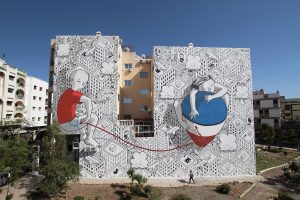 What are you currently working? Have you considered delivering a solo show?
Now I'm in Shanghai, painting on what in a couple of days will be the biggest wall I've ever realized in my career and yes, maybe next year I would love to prepare a solo show.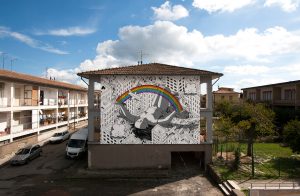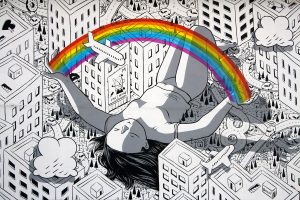 What role do you think you have as an artist in society?
I want to represent the contemporary word that's why my stories are always set in cities. Our cities are the place where everything happens, where we grow up, live, love, work and die.
When I produce urban art works, I like to see myself as a sort of highlighter. Very often I am called upon to paint blank walls of buildings. Mural paintings can transform an area and change the perception of space, for example, if you draw on the blank wall of a six-floor building, the wall will become a highlight, and the building will look completely different. I think we, as artists can underline some aspects of life usually unraveled.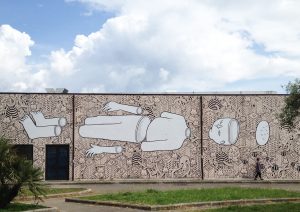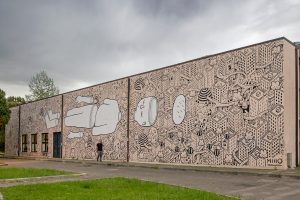 Since you have worked in many continents can you explain how people from various places saw or welcomed your art?
I'm very lucky, people always come towards me to say what I'm doing makes them happy, so in a certain way, I still don't know how it will be if will ever happen the contrary!