Known for his wonderful realistic creations between painting and sculpture, artistic expression and creativity have always been part of Keng Lye's life. Lye was born on 24 August 1964 in Singapore. Lye enjoyed drawing at an early age, especially copying images from various magazines and books. He always strived for perfection, as he implied, "I remember feeling frustrated whenever I was not able to come up with illustrations that were good enough."
In 2011, Gerald Gay—his photographer friend—showed Lye a video of Riusuke Fukahori and challenged him to try and create 3D resin art similar to the works of this Japanese artist. Ever since he discovered the resin art of Fukahori, Lye began to experiment with this technique and continues to produce numerous almost-alive paintings.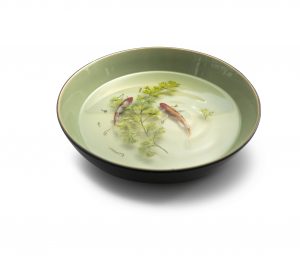 The process of creating these art pieces is very complex; it can take between 10 and 45 days to complete a painting. In his first series of paintings, his illustrations were flat, so he created depth using the layering of resin and acrylic over the different parts of the illustrations. Thinking of new techniques and ideas to make his work more interesting, Lye added additional components and daily items to create a greater realistic feeling, and in both of his Alive without Breath series, he used artistic gel to add a more shining and 3D effect.
The idea behind Keng Lye's art is to fundamentally communicate calmness, peacefulness, and tranquillity, said differently, to make people simply feel good. And it does! Lye's near-life sculptures of aquatic animals have gained the attention of art followers around the world. The resulting pieces are so real, they make you believe that those painted creatures are moving, and if you see them as photography, you would not have a single doubt that they're not alive. To get to know more about Keng Lye, we did an interview with him on his work, inspiration, workflow and future endeavours.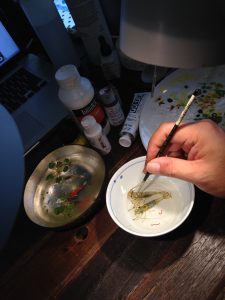 What feelings, subjects or concepts inspire you as an artist?
I can't pinpoint specifically what inspires me. Generally, Mother Nature and its beauty is a constant source of inspiration. When I go for a walk in the park, I see something that intrigues me or makes me wonder. When I go to the city and take in the sights, I find something that speaks to me. When I visit an art museum or gallery, certain things call out to me… I think you get the idea that I draw inspiration from all around me.
Since most of your work depicts aquatic creatures, how do you experience this interaction? Are you planning to switch to other creatures as well?
One of the reasons I paint aquatic creatures is simply because the resin is clear and it acts as a simulation of water. Hence, aquatic creatures suit this medium perfectly. At the same time, I have a certain fondness for fish. Therefore it is a perfect fit. I have painted other water creatures such as frogs, terrapins and octopus.
Do you have a composition in mind when you start painting or do you go with the flow?
Sometimes I have a composition in mind, sometimes not. Generally, I listen to my feelings and act on my instincts. Every piece is unique, and my approach to each is always different.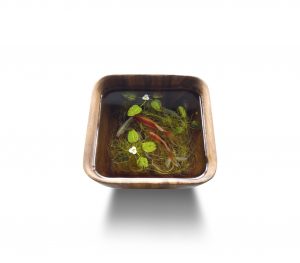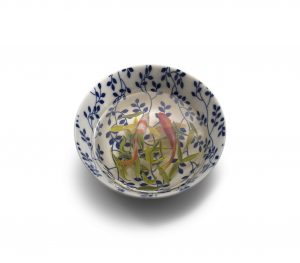 What do you think is crucial to ensure the work you do gets done efficiently?
Discipline is an important trait. So are patience and dedication. Things don't always go according to our best-laid plans. So, I strive to meet deadlines and work within other constraints as best as I can. For example, much as I would like to complete an artwork without mistakes, but this is really not realistic. As an artist, you have to accept that not everything that you create is as beautiful or creative or outstanding as you want it to be. You have to be able to recognize when to stop and start all over, despite having spent so much time and energy on a particular artwork. Sometimes all is not lost—it could turn out to be a great learning experience and the end result is that the artwork turns out to be more than you had expected it to be.
What are currently your main challenges as an artist? What is it about being a painter compared to, say, working in your graphic design company?
For most artists, I would think that the most challenging part is coming up with artworks that move my soul and excite my senses. How does an artist continually evolve and change? There is no easy answer. It takes time and the ability to "let go" and open your mind to new influences, and also to be able to recognize and identify the new motivations that crop up. As an artist, I have the freedom to experiment and do what I feel, what I like and also indulge myself. As a graphic designer, I always have to follow the design brief and be dictated by what the client wants. Of course, there are times when a client is open to receive your recommendations, but most times, a graphic designer has to compromise and give in to the client's demands.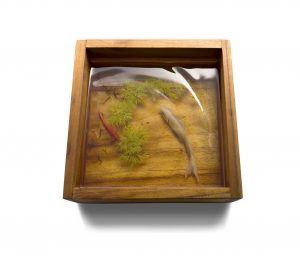 What are you currently working on? What can we expect from you in the future?
I am currently taking a break to recharge. I have not done much since the beginning of 2017, after my third exhibition. I have not got anything concrete at the moment, just taking it easy, one day at a time.