We had a chance to interview the French sculptor Patrice Hubert regarding his otherworldly sculptures and artistic development—how did all of this begin? Simply put, Hubert is a self-taught artist who started to follow his passion for art when he was around 13 years old.
"My life revolves around my work as a sculptor."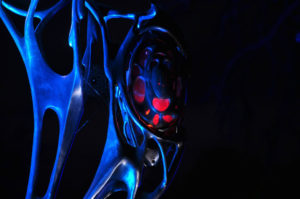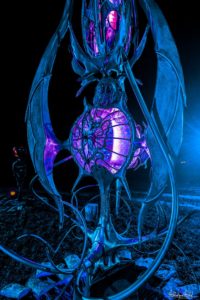 After years of painting and sculpting in different materials, in 2003, he started the series Kinetic Mecanik. This series of sculptures was born from a fusion of metalworks, lights, motion and portrays insects, bird, and carnivorous plants of Hubert's futuristic imagination. Some of Hubert's artistic influences are early 20th century Modern Style art, including artists such as H.R. Giger and Peter Gric.
"Modern style early 20th century is perhaps the most inspiring art in my work. A spiritual blend between insect, plant, and fantasy—I found this style on the visionary art of H.R. Giger's work for the dark side or Peter Gric's work for more luminous creations."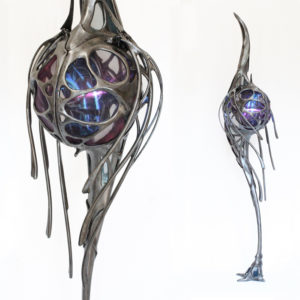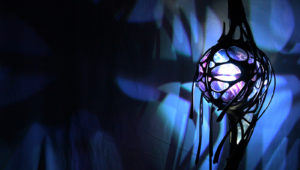 Early in Hubert's career, stage shows and events provided a platform on which his works were showcased. As his knowledge in programming advanced, so did his work. The addition of motors, rotating parts, and lights, infuse movement and life into his 4th-dimensional sculptures. When asked about what feelings, subjects or concepts that inspire his work, Hubert implied: "I am always attracted by what is done in the margins of art, on the underground. I do not appreciate conceptual art at all, for me art must be a mode of expression by whole. The phase of inspiration is a drift, achieving a fixation."
The process of Hubert's work revolves around the idea being fixed. He makes a copy to scale with the mixes of his sketches and uses it to draw the templates for the realisation on steel. He cuts, bends, and welds metal into complex shapes using geometry inspired by nature, blending the organic with the mechanical. The artist's obsession with dates and numbers is revealed by numeric titles engraved into his works, revealing his obsession with dates and numbers, which simultaneously works as a link between the Kinetic Mecanik's sculptures.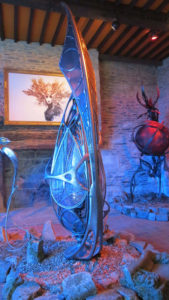 "The curve is opposed to the straight line and philosophically closer to doubt, to questioning. My sculptures are thought like a balance of fragile forces, mixed steel and textile, grace and aggressiveness; it may be that it delivers some keys of life—The power of suggestion."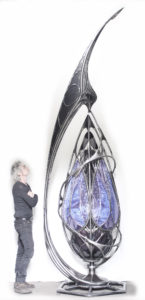 An interesting fact is that Hubert's wife, artist Manu Van H, takes part in the creation by either incorporating her paintings on the sculpture or by engraving the pieces of metal. Immersed in their art, they both live and work in the small village of Molac, located in Brittany, France.
Besides exercising his passion for sculpting, Hubert manages the Naia Museum which presents 70 international artists around visionary art. Currently, he is working on various exhibitions both in the Naia Museum, as well in other places. In our interview, he implied that other sculptures are on their way: "A lot of exhibition inside and outside the walls are planned, and surely other sculptures will come."