Focused on visual art installations—French artist, Joanie Lemercier combines different scale objects, either flat or 3D, augmenting reality with virtual projected layers of light. Inspired by light and its properties, geometry, patterns, and minimalistic art, Joanie has created numerous projects and continues to look forward to producing new and immersive experiences, unique light performances and installations.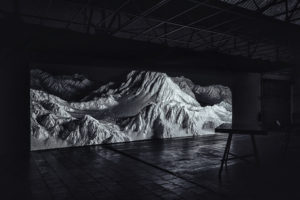 Lemercier's artistic background has developed starting at an early age, initially utilising computers and continuing using various software and the latest technology. His career with projected light began in 2006, and since then Lemercier has worked on solo projects, participated in various collective works and collaborations, while regularly undertaking technically challenging ideas.
Around 2008, Lemercier co-founded the visual label AntiVJ—worldwide leading audio-visual collective with Yannick Jacquet, Romain Tardy and Olivier Ratsi. After seven years of intensive collaboration with the AntiVJ team on stage design for international festivals and large-scale architectural projections all around the world, Lemercier founded his own creative studio. Since 2015, Joanie's studio is based in Brussels, Belgium—oriented on research and development of installations, gallery pieces and experiments, using projected light in space.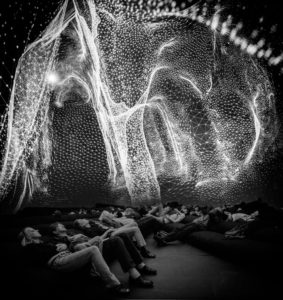 Some of Lemercier projects include his audio-visual mapping projects inspired by the Icelandic volcano Eyjafjallajökull, audiovisual installation Blue Print, his 15 minutes audiovisual piece Nimbes, part of his ongoing artwork series on volcanoes, Fuji, and Light Fragment triptych: a series of installations directed by Joanie and exhibited at Barneys New York, including three chapters Floating City, Quartz, and Atoms in collaboration with Boris Edelstein.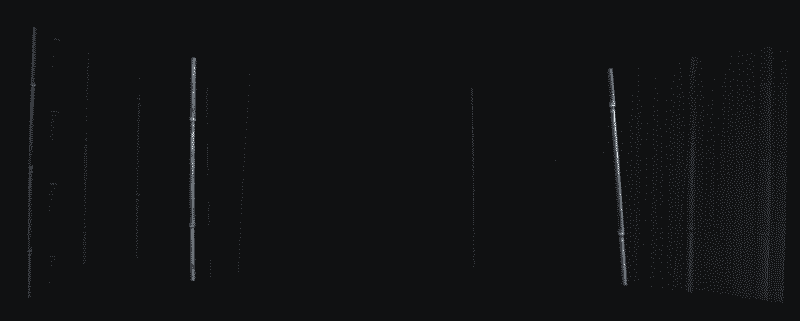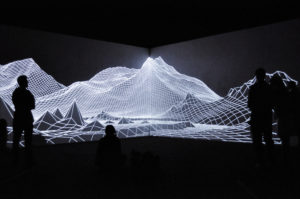 Moreover, Lemercier worked with renowned artists such as Jay Z, Flying Lotus, Emptyset, and Adrian Utley (Portishead). Besides his projects, Joanie is additionally involved in teaching workshops, participates in various talks on behalf of his work, and from time-to-time issues multiple publications. We got the chance to interview Lemercier to get additional insights regarding his work, inspiration, collaborations and future ventures.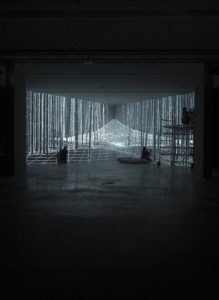 You were introduced to creating art on a computer at the age five by attending classes on pattern design for fabrics taught by your mother. Can you tell us more about this experience, bearing in mind that you were very young, and the influence it had on you as a child to follow your passion? Additionally, how did you develop your skills throughout time?
When I was young, we had an Amiga computer at home, since my mum was teaching graphic design and pattern making in a fashion school. So I had my first experience with Dpaint (ancestor of Photoshop), and I started drawing on a computer very early.
A little later, I attended my mum's courses three times a week, since I was finishing school before her. So I would be in the back of the classroom. I feel like I have never stopped since then to make art on a computer and these early years oriented my vocation.
Today, I do more or less the same thing: exploring the digital patterns that I then project onto various canvases.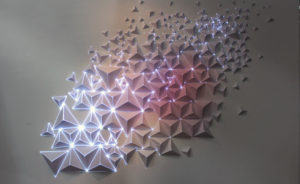 Tell me about your experience working remotely. What inspires you to embark upon a specific project and what do you feel is important to make sure the work gets done efficiently?
At first, during the AntiVJ years, we had to make artworks within many many constraints: very short production time, sharing the workload between four or five people, working in planes and hotel rooms and doing online collaborations using various tools like FTP, Skype, emails—it was a bit all over the place, but we managed to do incredible work sometimes in just ten days.
Now, that my creative process has evolved a lot, I try to set my own constraints as part of the workflow: prototyping in the studio with three months or more, testing full scale, trying new ideas before anyone comes to us and it would be very difficult to go back.
There will always be a big part of pre-production that will be done from a distance, requiring many many emails, and we also sometimes handle maintenance remotely using specific software programs.
We have also got to a point where several projects can be installed based on our instructions without our presence on site (something that has been done for a long time by contemporary artists using instructions in their work like Sol Lewitt's wall drawings).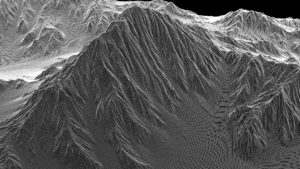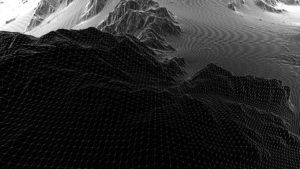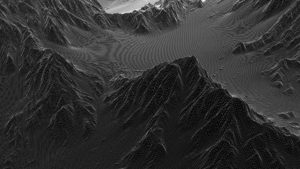 One of your recent works is Paysage 17.219, a piece you created for Cheongju Craft Biennale in South Korea. Can you tell us how did you come up with the idea of creating Paysage 17.219 and what do you think makes it different from previous works?
Since a few years, I started going on hikes and exploring nature and wilderness. This has become one of my main inspirations for many pieces. I spent a few days hiking on Birobong Mountain near Cheongju, and I then tried to recreate the experience and the emotion I had at the top.
I had made several wall drawings before were I depict a landscape on a wall using either marker pens or wall paper. This time, I wanted the piece to be more immersive and detailed to reflect how you feel when surrounded by such panorama.
Can you tell us more about your involvement in the commissioned project at Barneys New York and how this project came to life and your collaboration with other artists?
I usually never do commercial projects, but my NYC based gallerist insisted that this opportunity could be unique. We managed to have a total carte blanche for this project to create four different projects.
Considering the ambition and the amount of work, we set a temporary studio in NYC and invited a team of artists and creatives to collaborate. We felt this was a great chance to explore various techniques and aesthetics for each of the four environments we had to create.
This experience was the first time we had to build large structures, make entire rooms from the concept to the 3D drawings up to the real piece. It is also the first time we had to manage a team of 30 people.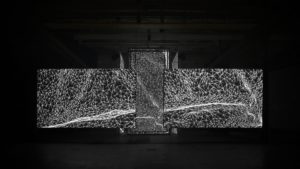 Considering that you worked for stage design in numerous festivals and worked with renowned artists such as Jay Z, Flying Lotus, Emptyset, and Adrian Utley (Portishead), can you describe how do you experience the interaction between visual art and music?
Every of this collaboration was completely different from the previous one.
Despite similar tools and processes (midi and OSC signals, FFT sound analysis, visual feedbacks,) there isn't one workflow that works in every case. This challenge is always super interesting: how to synchronise a live orchestra and a conductor with a computer when the first one will be very organic and sometimes unpredictable while the computer will always be binary?
Listening to the music hundreds of time is a good starting point to get the essence of the artist, then writing a story as a back and forth dialogue between myself and the musician, and finally adjusting the technology and content on the fly during a residency or rehearsals.
What areas of your work or personal development are you hoping to explore in the future?
At the moment I am really fascinated by the possibilities of using solar energy to power eco-friendly and meaningful projects. I just started experimenting and testing.
I also have many dream projects and proposals I have been developing for years, to approach artists, events, venues, to make these come true.