The Kickstarter funded indie label Digital Reprints dedicated to bringing music that was available only online to the physical media, releases a box set of Bill Halsey AKA Cosmosis, titled RetroFuturism.
The new label named after the title of the first release of Entheogenic's Digital Archives, has already released box set's from Entheogenic, Kaya Project and Globular. The new release from Digital Reprints is a box set full of early and recent hard to find, out of print and unreleased material of Cosmosis. The 4xCD Box Set includes two Retro compilation discs from the Goa Trance era and two others from the Futurism compilation with more recent material never printed on CD before.
Listen to the 1998's "Pigs In Space" below.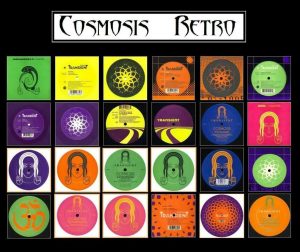 Tracklist
01. Atom Bom! (Fat Kik Mix) [Retro Vol. 1]
02. Reality Check [Retro Vol. 1]
03. Psychofunk [Retro Vol. 1]
04. Do It! (Teutonic Technoid Mix) [Retro Vol. 1]
05. Grinder Winder [Retro Vol. 1]
06. Atomic Funfare [Retro Vol. 1]
07. In Yer Face Part 2 [Retro Vol. 1]
08. Telekinetic [Retro Vol. 1]
09. Two Sticks of Nag Champa and a Packet of Bhindis [Retro Vol. 1]
10. Deep in the Dark Forest [Retro Vol. 1]
11. Dans Ta Figure [Retro Vol. 2]
12. Visitors [Retro Vol. 2]
13. The Outer Limit [Retro Vol. 2]
14. Do It! (Procrastinator Remix) [Retro Vol. 2]
15. Just Say No (Melodic Mix) [Retro Vol. 2]
16. Kinda Weirda (Deep Space Mix) [Retro Vol. 2]
17. Pigs In Space [Retro Vol. 2]
18. The Doors of Perception [Retro Vol. 2]
19. Cosmosis & Shakta – Scientific (Acid House) [Retro Vol. 2]
20. Zero G [Retro Vol. 2]
21. Cosmosis & Quantica – Rastafari Rising (Cosmosis Mix) [Futurism Vol. 1]
22. Mumbo Jumbo – Mirage (Cosmosis 2011 Remix) [Futurism Vol. 1]
23. Cosmosis & Colorshape – All Funked Up [Futurism Vol. 1]
24. Cosmosis & Avalon – Destiny Awaits (Cosmosis Mix) [Futurism Vol. 1]
25. Cosmosis & Quantica – That's The Moment (Phat Mix) [Futurism Vol. 1]
26. Tiny Particles Of Matter [Futurism Vol. 1]
27. Cosmosis & Burn In Noise – Ancient Knowledge (Original Mix) [Futurism Vol.1]
28. Burn In Noise – The Last Window (Cosmosis Mix) [Futurism Vol. 1]
29. Mumbo Jumbo – Oompah Oompah Stick it up yer Joompar (Cosmosis Mix) [Futurism Vol. 1]
30. The Hidden Track [Futurism Vol. 1]
31. Govinda [Futurism Vol. 1]
32. Discomboobulated [Futurism Vol. 2]
33. Cosmosis & Eskimo – Something's Wrong [Futurism Vol. 2]
34. Cosmosis & Headroom – High Volume (Cosmosis Mix) [Futurism Vol. 2]
35. Cosmosis & Quantica – Transcend The Limits [Futurism Vol. 2]
36. Different Levels [Futurism Vol. 2]
37. Cosmosis & Quantica – Matter Is Magic [Futurism Vol. 2]
38. Imagine What You Will [Futurism Vol. 2]
39. Reclaim Your Mind [Futurism Vol. 2]
40. SoundMagus – Mai Pin Rai (Cosmosis Remix) [Futurism Vol. 2]
41. Parvati Pines [Futurism Vol. 2]
42. Floating [Futurism Vol. 2]