Ø & Panasonic soundtrack to Sähkö – The Movie from 1995 has been released as an EP via Sähkö Recordings.
The sound recordings were discovered last year in a box of Jimi Tenor demo tapes at the Warp offices in London. The 1995 film's soundtrack is now compiled and issued to coincide with the Oslo memorial for Mika Vainio. Shot on 16mm by Jimi Tenor, "Sähkö The Movie is a suitably abstract portrayal of the singular label in its prime. Finnish artists featured include Sähkö co-founder Tommi Grönlund, Mono Junk, Hertsi, IFÖ, and, of course, Mika Vainio himself." All the material here is previously unreleased and are from the actual movie scenes except an edited version of "Syväys" from the 2012 EP of the same name.
Listen to the previews at Bleep.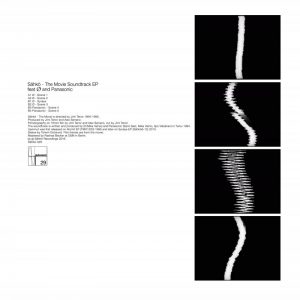 Tracklist
A1 Ø – Scene 1
A2 Ø – Scene 2
B1 Ø – Syväys
B2 Ø – Scene 3
B3 Panasonic – Scene 4
B4 Panasonic – Scene 5