Massive Attack presents the 20th anniversary edition of their classic album Mezzanine, due out sometime in November via Virgin.
The iconic trip-hop British band Massive Attack chose their most celebrated and successful album Mezzanine to reissue for their 20th anniversary, this time newly remastered and including previously unheard Mad Professor remixes dating back when they released their album in 1998. Two of the tracks will be from Mad Professor which are dub mixes, materials which were not used two decades ago on the original album. The album's new edition comes in a specially-designed heat sensitive box which includes a book featuring exclusive images by Robert Del Naja and Nick Knight and will be available on double-CD and vinyl box set this fall.
Listen to "Angel" from the original album below.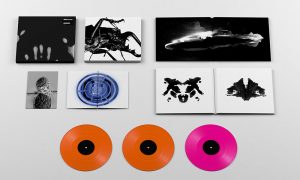 Tracklist
A1. Angel (2018 Remaster)
A2. Risingson (2018 Remaster)
A3. Teardrop (2018 Remaster)
B1. Inertia Creeps (2018 Remaster)
B2. Exchange (2018 Remaster)
B3. Dissolved Girl (2018 Remaster)
C1. Man Next Door (2018 Remaster)
C2. Black Milk (2018 Remaster)
C3. Mezzanine (2018 Remaster)
D1. Group Four (2018 Remaster)
D2. (Exchange) (2018 Remaster)
E1. Metal Banshee (Mad Professor Mix One)
E2. Angel (Angel Dust)
E3. Teardrop (Mazaruni Dub One)
E4. Inertia Creeps (Floating On Dubwise)
F1. Risingson (Setting Sun Dub Two)
F2. Exchange (Mountain Steppers Dub)
F3. Wire (Leaping Dub)
F4. Group Four (Security Forces Dub)