Anthony Linell AKA Abdulla Rashim presents his latest EP Alienation from Self via own imprint Northern Electronics, coming out on 30th of April.
After releasing his ambient and dungeon synth influenced album, A Sense of Order, Anthony Linell continues carving the sonic sculpture and aesthetic for his self-found label Northern Electronics. The first two tracks on the EP are accompanied with tension and firmness, a steady feel with a twisted and mental intention, whereas the last track delivers a sense of relief and ease. With the new release, the Swedish artist and label further extend their catalogue of interesting combination between experimental and club music in the electronic music industry.
Listen to the samples at Delsin.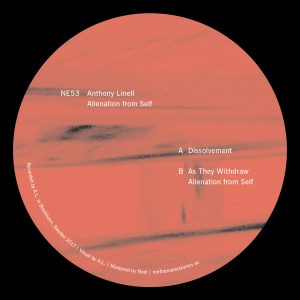 Tracklist
A. Dissolvement
B1. As They Withdraw
B2. Alienation From Self