For those who know them, Davide Perrone and Gabriele Giuggioli better known as Primal Code, bespeak of certain ethereal and emotional sonorities. Evocative and intriguing, with a sound that stands somewhere in between techno and ambient, the Milan-based act has rapidly secured a special place in the underground electronic music scene.
Their debut release arrived in 2017, under the Swedish imprint Hypnus Records with their EP, Ēteru, which includes re-edits by the Italian producer Luigi Tozzi and companion Feral. Introspective, nostalgic and hypnotic, these are the adjectives that describe the sounds of the young Italian duo, Primal Code.
Having released another EP for the Dutch label Konstrukt in early 2018, and being featured on Berlin's End of Perception compilation alongside Ness and Deepbass, Primal Code returns on Hypnus once again with their debut LP, La Via Della Seta (The Silk Road).
Their longest and most complete endeavour to date, La Via Della Seta, includes hypnotic rhythms and soothing ambiences, intricate textures and mesmerising melodies. A work that expresses maturity and spills production mastery in each track. Our contributor Frank Bisestile caught up with the Italian duo for a chat about music, production, workflow and more.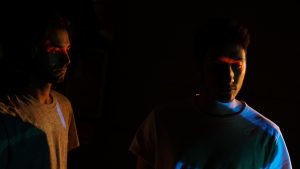 How did you two meet and what influences do you share? What are the ones you differ on?
Gabriele Giuggioli: We met eight years ago by chance at a Logic Pro course here in Milan by Luigi Barone who now runs the Studio104. I am from Arese and Davide is from Bollate, two villages in the North of Italy just outside Milan. We shared then, and still today, the curiosity and love for electronic music, especially in its production and composition. Both of us grew up as producers and not as DJs, and this has also influenced our artistic and mental maturation. We are different from some points of view, especially the character and the extremely subjective musical background for both. I call myself more outstretched and introverted, Davide more technical and expansive; this makes us very productive during the production phases.
Where do you think your music stands in today's electronic music landscape?
Davide Perrone: It is quite difficult to be able to objectively answer this question because we are in it in the first person. But here we see ourselves a bit out of techno geared purely for the club; we approach more to a listening music for fans of the genres of ambient and techno, a listening for dream travellers. We are doing what we feel like doing, also risking staying out of the pack, and it is very nice to see that what represents us can be appreciated by other people.
In your latest album La Via Della Seta, there are plenty of cinematic elements. Is there any film scores that have inspired these sounds?
Gabriele: That's it! There is not a film in particular as a reference, but we take a lot of cue from musicians such as Philip Glass, Angelo Badalamenti, Vangelis, Terry Riley, Brian Eno and many others who have worked with the images. The atmospheres we recreated in La Via Della Seta are associated with imaginary places and adventures in the lands of the Orient that we had in our mind. The album is the soundtrack of this journey, and we are happy to notice this cut a bit cinematic, hoping that it will transport all the listeners to the lands we have tried to describe.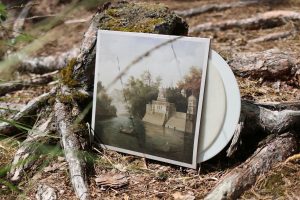 There are a few tracks in this album that feel particularly emotional, like "Varanasi" and "White River." Can you tell us what inspired them as well as what has moved you to create the album as a whole?
Davide: The album is the product of an imaginary journey of a textile merchant along the ancient and tortuous Silk Road. We wrote ourselves a caption of the record (you can find it on the Hypnus Bandcamp), which is a piece of this adventure. What inspired us to give life to this sonic adventure is our fascination with those mysterious lands; we wanted to provide a soundtrack to these fantasies.
We gave each track a title that corresponded to a significant moment of the route, in particular, "White River" is a purifying watercourse, a river that crosses the desert, which regenerates its body and gives it moments of ecstasy. "Varanasi," the sacred and mystical Indian city where the famous celebrations on the Ganges river take place. It is a hub of energy and spirituality as well as a central stage in the journey of our merchant.
"First of all, we have increasingly tried to experiment with sounds that are not really common in the techno world. Never settle for the result and always aim for the best. We have also had the opportunity to compare ourselves with many artists of the scene and exchange constructive opinions, always seizing the best from these experiences."
What's in your current studio setup? Do you have a favourite piece of gear at the moment?
Gabriele: At the moment our studio setup is composed of a hybrid between machines and software, we have two Korg of the Volca series (Beats & Bass), a modular rack (the Clouds we like particularly for creating harmonic textures), a XoXbox, very exploited for our melodic and bassline lines, Korg MS-20, and a series of pedals between distortion and chorus.
The Software vs Hardware synth debate is always a focal point for producers. Do you have a specific stance on the topic or are you quite flexible?
Gabriele: The question is always delicate. We do not place limits on the use of software because the quality of plugins has gradually increased with the years, favouring a very interesting and complex sound and tonal search compared to traditional hardware, already widely used.
You can experiment and achieve satisfactory results even with software. The use of the hardware is indispensable, however, for the immediacy and direct contact with the instrument, you can hear it, touch it, and it has a decidedly warmer sound paste. It's another thing, and it will always be like that.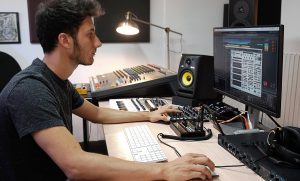 Your productions sound very neat and tight. Do you spend a lot of time mixing and finalising EQs?
Davide: We are pleased to note this particularity in our productions because actually, the mixing part is fundamental for us and this genre. Our music is born primarily to be heard and appreciated not only in clubs, where often the details are not perceived. We like to make each instrument interesting and wrap the listener in a very open mix, recalling natural scenarios in their complexity.
You two work in music for a living, has this affected the way you perceive and absorb new music?
Gabriele: We are fortunate to be able to work full-time in our studio even in parallel projects with Primal Code. In fact, we sonorize videos of various kinds, from the short film and documentary, till corporate videos and also video games. This helps us a lot to space musically, and often working on sound design, we have developed over time a sensitivity that is attentive to details. Even today, however, we round off our salary working in other sectors distant from the part-time musical contracts.
Throughout your discography, the influence of the likes of Donato Dozzy and Giorgio Gigli is somehow evident. Can you tell us a bit more about your relationship with this particular side of the Italian electronic music scene?
Davide/Gabriele: Of course, the influence of Donato and Giorgio was fundamental for our approach to this kind of music, for us as well as for other Italian artists. In this regard, the Italian scene has grown a lot, bringing to the genre in recent years a hotbed of talent. In the last year, we had the opportunity to meet some of them personally, especially thanks to a meeting place like the Masada in Milan at the Aquario parties: Luigi Tozzi, Claudio PRC, Ness, Mod21, Christopher Ledger, Viels, Esse, Alan Backdrop, Feral, Andrea Cossu and many others, the list is very long. We feel now a bit part of this great family, and we like to compare with them and celebrate when there is an opportunity.
"Don't be in a hurry to close too many projects, but focus on a few things and do them well. For us, one of the decisions we will never regret was to wait almost for a year for our first release, because it was on the label we wanted from the start."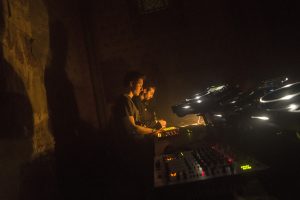 Primal Code performs only live. Could you delve a bit deeper into why you prefer live sets over DJing?
Davide/Gabriele: As we said earlier, we are born more as producers than as DJs, the best way to express our musical concept is that of live or a hybrid set, which also gives us the opportunity to use four hands during the performance. We cannot wait to be able to show soon!
What do you have in the pipeline for the short and long-term?
Davide/Gabriele: We have several projects in the pipeline, beyond the live, which you will soon discover. We are currently working on a double release on two different labels with our Dutch friends Alex and Phil, AKA Wanderwelle, and for now, we are really satisfied with what is coming out. We have an EP ready that will be released in the coming months on an Italian label and further work in programming for 2019.
We want to spend our last words to thank Frank, Elena from Inveins and Orb Mag for having us in the magazine. Below you will find our dedicated podcast, in which we wanted to experiment part of our live and insert tracks a bit out of our canons.
Tracklist
01. Christian Zanesi – D'un Jardin À L'Autre
02. How Du – Glass Ball (Interlude)
03. Margaret Dygas – Even 11
04. Kilchhofer – Varen
05. Primal Code – Primate (Unreleased Live Version)
06. Ø – Scene 1
07. Primal Code – LD50 (Unreleased Live Version)
08. Birds Ov Paradise – Wild Growth
09. Primal Code – Paradisea (Unreleased Live Version)
10. Primal Code – Dune (Unreleased)
11. The Lotus Eaters – Decanter
12. Primal Code – Due Mari (Unreleased Live Version)
13. Vesa-Matti Kivioja – Mutata
14. Primal Code – Magellano (Live Version)
15. Fis – Her Third Eye (Drum Rain)
16. Primal Code – Morgana (Live Version)
17. Primal Code – Jikan (Live Version)
18. Primal Code – Junkan (Live Version)