Before the birth of Parvati Records, Giuseppe and a group of friends known as "Instant Karma" were organising parties in Aarhus until the end of the '90s, when they felt that the scene was in need of a certain sound that wasn't being released till then. "Back in 2000, I felt that the scene was missing a label publishing the underground sound of that time. Labels like TIP, Matsuri, Flying Rhino, were already active but there was much more music from Goa going around on DAT tapes," explains the founder.
The Danish-based label was founded by the Italian DJ, Giuseppe Capopepito, and since its foundation in the summer of the year 2000, Parvati Records released some of the most renowned psychedelic productions, signifying the diligence of Parvati members and artists. As a platform which aims to support and spread the development of psychedelic culture through the use of music, Parvati counts more than hundred projects from various artists around the world.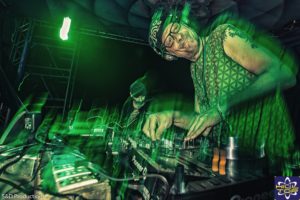 "Psychedelic music is a big part of my life, as inspiration and guidance. Since some years, it also became my full occupation, so it is also my work." — DJ Giuseppe
Parvati represents the birth of a platform, which is manifested as a bridge, unifying people through the values of community, love, responsibility for the self, others, and Mother Earth. Their concept is to focus on quality productions, and the way the music is given out as a service for the scene, which also means quality in the relationships between the label, the producers, and the listeners. Another quality for them is not only having an open mind towards what is musically happening in the scene but also to take an active part and try to stimulate change with their label activities.
Label founder Giuseppe goes further into explaining his idea of Parvati concept, "The main idea behind the label was to create a platform for psychedelic trance producers around the world and publish quality sounds. The label reflects my own personal taste, and now has a wide spectrum of music, from intense and strong, to more light and groovy, with some common elements: the twisted and the surprise element."
Parvati records is widely known for releasing the split album of Grapes Of Wrath & Meteloids, Tits On Fire, in 2004, which is acclaimed to be one of the milestones of Parvati catalogue and beyond, defining the so-called Parvati sound, which is known for its deep groove and high energy tracks that work both for the mind and body. Additionally, The Danish team of Monno Wurtz, Jaffa Skouborg, Roelike Jahbo, Bo Terkelsen, Anders Eskildsen and others from the early days of the label work, played a huge role on paving the path for one of the most successful underground psychedelic labels.
The course of this sound not just shaped the label's music, but it also served as a huge inspiration for the whole scene, and a lot on what came after it, which culminates in 2009 by the split album of Atriohm & Encephalopaticys, Ukalen, one of the best full-length albums of modern day's psytrance. The Macedonian brothers Leonid and Aleksandar Golcev best known as Atriohm, gave the label a different flavour from what has been released until around that time. Their sound still had their groove, but the on top effects and atmospheres introduced a different path, distinguished with very deep and almost unreal atmospheres, combined with organic sounds and cruising melodies in very wisely structured tracks resulting in unique storyline productions.
"The listener must be stimulated all the time, and not get the feeling that they have already heard that kind of sound, and also not to have the feeling of knowing what's coming next in the music he is listening to." — DJ Giuseppe
Constantly exploring new sounds and embracing change, the label has grown to the point that now it has its own music shop located in Goa, and for some time is having "Parvati Nights" in a lot of parties and festivals around the globe, featuring a pool of their artists that offer a wide spectrum of styles inside the same genre. In 2012, Giuseppe also started to collaborate as stage manager with different prominent festivals, such as Ozora, Sonica, MoDem, BlackMoon, and Free Earth.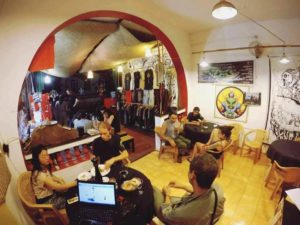 Parvati Records has so far released music composed by more than hundred different projects, and this is the concrete application of their label philosophy, "Diversity in Unity," where the unity is given by the common psychedelic research and the diversity by the individual inspirations and expressions. To know more about the label, we had the chance to interview Giuseppe Capopepito with whom we got the chance to talk about Parvati's roots, sound, and vision.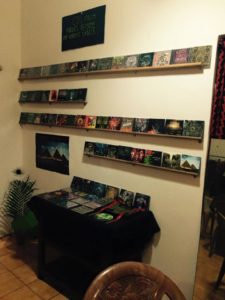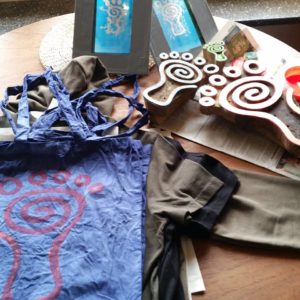 Founded in the year 2000, you celebrate 17 years of active work as a label, how did your sound change and shape during all these years?
Giuseppe Capopepito: Yes, 17 years feels like a long time, and it also feels it went very fast. Our scene is in constant movement, especially in the last years with the digital revolution, where music-making is very accessible for everybody. As for the label, I always try to catch up or even be in avant-garde regarding new sounds. So the label's sound is always evolving and following the scene.
How does the selection process go when you compile releases? Do you first collect all the tracks that interest you on a certain theme of the release or do you instruct the artists to make stuff specially created based on the theme of the release? How do the artists take the advice?
GC: I never instruct my artists on how to do something; I just let them work freely and with no deadlines. Whenever they come up with new material, they will show it to me, and if I like it, then we publish it on the label.
How do you think Parvati Records has influenced the psychedelic trance scene?
GC: I hope we influence the scene positively with our work. We try to find new directions all the time and always try not to compromise with our quality and vision.
What do you think of the current psytrance scene worldwide?
GC: Psytrance scene is evolving very fast, and in the last years I've seen parties and festivals everywhere, with a lot of very young people; it is the new generation, and they will bring a lot of new ideas. Psychedelic trance music now has no borders, we find it everywhere in the world, so we could say that it is now a mainstream genre and somehow it is, but it is also a scene that still is keeping some elements of an underground culture, and this is very interesting and positive.
Is psychedelic trance music a tool for higher states of consciousness? How do you look at it in this aspect?
GC: I prefer to look just at the musical side. The spiritual side of it is also real (as for many kinds of music), but I never speak about it, because I think it's a personal matter. A lot of people just come to parties to enjoy and simply to listen to music and have a good time. Many times I feel that all the talks about spirituality in our scene are just a cliché, like many people refer to Indian spirituality without any knowledge of it, but because it's becoming normal in our scene, they say Boom Shiva, but they could also say Alleluia, it's the same thing, but if you say Alleluia, they will look strange at you, why?
How do you see the psychedelic festivals and parties? Do you personally go for a bigger purpose than just having fun? Is there some remedy of some kind in these gatherings?
GC: One of the main purposes I go to festivals and parties, apart from the music, is to meet people and interact with them. It is beautiful to see and feel so many different people from different countries and cultures together and enjoy in this way.
"I can see that in many places in the world, there is a new generation coming up, and this shows me that psytrance music is not just a fashion, but a music movement with deep roots."
Psychoactive, entheogenic plants and other mind-altering substances have been used since our own human existence. How do you see them and their involvement in the scene? Do you think using these elements in the right context could be beneficial to our civilisation?
GC: Yes, you are right. This is something that we see in many different cultures and all over the world. Mind-altering substances are all around us, and also in our scene. I just pray all the time that people make a responsible and positive use of them. If so, they can be a great help for us all on many levels.
How is the Aarhus scene nowadays, and what did change and what did stay the same? How was it like back in the days when Parvati Records still didn't exist? The same question goes for the Goa scene.
GC: I do not really know about the nowadays Aarhus scene because I spend very little time in the town. All the autumn and winter season I live in Goa, and spring and summer season I am always around for gigs, so I just spend a few days now and then in my town, and then I normally just chill and do not go out very much. But I can see that here as in many other places in the world, there is a new generation coming up, and this shows me that psytrance music is not just a fashion, but a music movement with deep roots. On the other hand, the main thing that changed in Goa in the past years is that more and more Indian party crowds are coming to Goa to enjoy the parties. Before it was only us, foreigners and tourists, now is mainly local people.
Considering the drastic change of the audio medium, which ones do you actually prefer? Do you ever tend of plan for a vinyl release?
GC: I like the CD media very much and will continue to produce some even if the sales figures are absolutely ridiculous. I also think about vinyl release sometimes, so it might happen in the future, but no concrete plans for now.
What can we expect from Parvati Records in the future?
GC: We are trying to evolve all the time, and not just rely on what we have done until now. So a lot of new music and directions will happen in the future.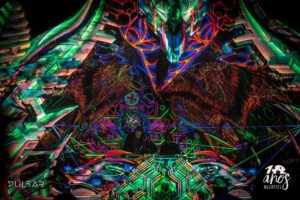 What is the idea behind the mix? How did you choose the records in it?
GC: This is a full Parvati sound, starting from the good old Danish music, combined with some unreleased and some released classic tunes.
Tracklist
01. Insane Behavior – Public Program + Jaffa vs EVP
02. Ohm Gnome – Texas Chainsaw Massacre
03. Ohm Gnome – Step Away From The Dwarf
04. System Overload – Attack !!
05. Maniac Bubbles – Knaark
06. Grapes Of Wrath – Rumble Of the Retard
07. Syntax Error – XT More Power
08. Syntax Error – Rørre Xatnys
09. Jahbo and Kindzadza – Minus 20
10. System Overload vs Mubali – Swan Song
11. Derango – The Arm
12. Kuro Fusion – The Druid's Dipsauce
13. Psilo Cowboys – Sweet & Sour
14. Digitalian – Sonic Marsh
15. Arjuna – Artificial Paradise
16. Encephalopaticys – Untouchable Circle
17. Farebi Jalebi – Carnival Tradition
18. Kaos – Mystic Groove