Amato & Adriani is the newfound project by French producer Michel Amato, better known as The Hacker, and producer and Mannequin Records label boss, Alessandro Adriani. The collaboration fuses contemporary ideas with the duo's shared love for electro, EBM, and new wave. Each artists' production style and philosophy, when combined, elevates something new in one and other. A hybrid of classic sounds fueled by two creative forces working in pure synchronisation resulted in their debut EP, Présence Du Futur, released on Adriani's Mannequin this June and includes a special collaboration with Cabaret Voltaire singer and founder, Stephen Malinder.
In the short interview below, the duo give us more insight about their new project, production techniques, and their debut EP, Présence Du Futur.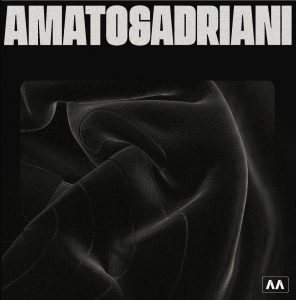 It all began as a B2B DJ set between you two and later developed into a studio project and live set. Can you tell us how you first met and the story that leads to your project, Amato & Adriani?
Alessandro Adriani: The first time we played in the same lineup was in 2010 together with Gesaffelstein in Milan, at the time I had another project, more minimal synth oriented called Newclear Waves. The first time we played B2B was for SSFB Festival, they asked that, honestly we never rehearsed or planned anything before, we met literally 20 minutes before the gig and magically we were already on the same rail.
Michel Amato (The Hacker): I met Alessandro via Mannequin Bandcamp. I ordered a record from DIN A Testbild, and the order was running a bit late [laughs], so I mailed him, and that's how we began to speak, then we met in Berlin and we started to make music. It all happened very fast, having a lot of the same influences in common helped a lot, we knew what we were talking about and what kind of music we wanted to make, there was no struggle, everything just flowed.
Collaborations can take on many forms. What are your preferred ways of engaging with each other? Do you share files or jam together?
Adriani: All the music we composed and performed was made live in my studio in Berlin. We used many of my analog equipment including an old Telefunken mixer/spring reverb from the '60s.
Amato: Jamming is much better, actually we really have two different ways of working, Alessandro works on long sessions that he records and then edits, and I work on really tiny parts (2, 4 or 8 bars) that I play over and over again until I think it's good. The mix of our two ways of working was good. Also, jamming was quite new for me, it gave me lots of ideas, the music is not as structured as when I work alone, it's more freeform and I like it.
What are your production methods and techniques?
Adriani: We were starting from a bassline and a drum pattern, building up slowly with the rest. A post-production edit work is also sometimes necessary. When you have many ideas all together it's good to reset your mind and keep it as minimal as possible. Michel is way more minimal than me, so it was great to learn also this ability from him.
Amato: We both love analog synths, so our music is very raw, really few plugins, a lot of things are made live.
Présence Du Futur EP is the first outcome of your collaboration. Can you explain the idea behind it? What did you try to achieve or convey with this release?
Adriani: Everything came out from our passion for analog machines and a sort of synth wave/minimal synth sounds we keep loving since forever. I think Michel is more synthpopy than me for sure, while I'm digging the experimental and industrial side of the medallion. Our point in common can be bands like The Normal, Fad Gadget, Crash Course In Science, Robert Rental and so on.
Amato: It's a mix of our influences and also it's the result of our two different ways of working as I was saying before. In a way Alessandro's music is more psychedelic than mine, I'm more into small sequences, Kraftwerk style, but the result is good, and it's hard to say what style it is. It's a kind of cold wave psychedelic techno if that means something [laughs].
What are your future musical plans?
Adriani: We have more material recorded and we would love to make a second EP for sure.
Amato: Playing live together this summer.