Fifteen years ago, we lost one of the most influential and iconic radio presenters, someone that pioneered the way in which a lot of us listen to music today. John Robert Parker Ravenscroft, known professionally as John Peel, was an English DJ, radio presenter, record producer, and journalist, but more than anything, he was an innovator that was far ahead of his time.
Peel began his legacy as a go-to radio jockey for hippies during the 1960s, an era when love and peace were starting to spread across the world in the midst of the Vietnam War. The Perfumed Garden show was Peel's breakthrough in the music industry, where hippies began to tune in between midnight and 2 am to listen to the newfound psychedelic sounds he had encountered when DJing in California, such as Jefferson Airplane and Love.
Listeners followed Peel to his beginnings in BBC's renowned radio station, Radio 1, where he truly cemented his name, a place where he worked with artists that were barely known at the time during the 1970s, such as Queen, Roxy Music, and the Wailers. He hosted recording sessions on his radio broadcast, providing listeners with live performances of these artists that continue to stupefy our ears today with songs such as Queen's "Bohemian Rhapsody" and Roxy Music's "More Than This."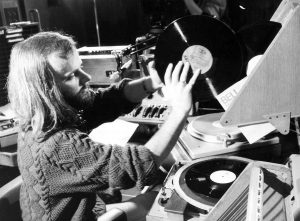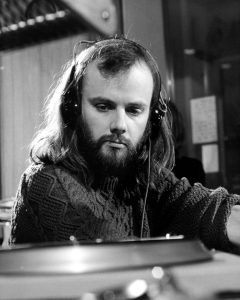 As the wave of rock'n'roll in all of its experimental forms swept the 1970's, Peel continued to search for other genres to put on the spot, and 1976 was the year that all began anew for his work once again. Peel received a copy of The Ramones' eponymous debut album and contributed to the inauguration of the punk revolution. With incoming artists in the punk sphere such as The Damned and the Sex Pistols, Peel set forth to make their name known on the radio, and enthrall the world with the newfound gritty and enraged sounds of punk rock.
"John Peel was a unique broadcaster whose influence on Radio 1 could be felt from its very first days," said BBC Director of radio and music Jenny Abramsky. "He nurtured musicians and listeners alike, introducing them to new sounds."
One cutting-edge feature of his radio broadcasts was his self-dubbed Peel Sessions where he would invite artists onto the set to play four songs live in BBC's studios for listeners tuning in, giving them an opportunity for both the artist and the listener to experience something new. During his 37 year tenure as a radio presenter, Peel invited over 2,000 bands and recorded over 4,000 sessions, where many of these artists were young and had never been in a recording studio before, giving them the opportunity to kickstart their career.
"John's influence has towered over the development of popular music for nearly four decades and his contribution to modern music and music culture is immeasurable," said Radio 1 controller Andy Parfitt.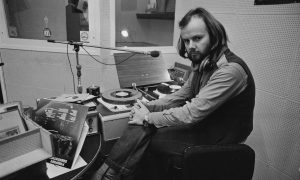 The Peel Sessions became the front-runner of Peel's influence on the music of the late 20th century, hosting artists such as the Jimi Hendrix Experience, The Cure, New Order, Syd Barrett, The Smiths, Joy Division, and many more. His sessions became released on records later on, gracing listeners with the opportunity to listen once again to many of his record sessions with the artists. However, Peel took a path towards modesty when speaking about his work with live performances on his radio program.
"The thing is that you get a lot of credit for putting these bands on the radio, but the fact is that it's like being the editor of a newspaper — you don't claim credit for the news. It's my job to listen to bands and listen for musicians from around the world and put them on the radio, and this is not something that I would wish to be applauded for really, because I'm just doing what I'm paid to do," revealed Peel in a 2002 interview. "They discover themselves, it's not up to me to discover them, bands discover themselves – they make the records, the records arrive; I think, 'let's play it on the radio,' and when they come over here I think, 'let's book them for a session.' That's how the process works. It's very little to do with me, to be honest."
The radio presenter's influence continued onwards to '80s and the '90s, where he became more experimental in his music selection with genres such as dub reggae, world music, hip-hop, techno and drum n' bass. Peel continues to affirm that he isn't a part of a certain movement of music, simply confessing that it was what he believed was the best music at the time.
"I don't pursue particular movements. The punk thing dominated as it did only because there wasn't anything else interesting at the time, or at least that interested me," said Peel during his Peeling Back the Years broadcast series on BBC Radio 1 during the late 1980s. "But after the first careless rapture of that had diminished, I went back to the way I'd been before, looking around at various areas of music and trying to find what I regarded as the best in those different areas — rock, folk, reggae."
Today, you can dive into Peel's extensive record collection, consisting of over 100,000 records the DJ collected during his life, discovering what exactly his music taste ranged within.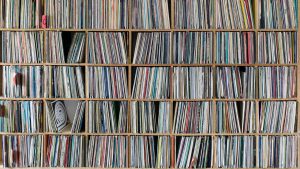 One element that was a crucial part of Peel's lasting influence on music today was his involvement with electronic music, giving the spotlight to artists such as Aphex Twin, Orbital, Plaid, Boards of Canada, The Orb, and Daft Punk. During the 1990s, Peel experimented with various genres of electronic music, such as techno, acid, house, big beat, dub techno, and downtempo. He held Peel Sessions with Daft Punk and Aphex Twin, providing them with a platform to burst onto the electronic scene with their innovative and groundbreaking music.
Peel first discovered Aphex Twin when reading music press in 1992, learning that his music would transform the whole nature of dance music. As Peel was about to play Aphex Twin's "Digeridoo," he provided some firsthand insight on his feelings about his music.
"And this is the record which I've been seeing write ups about in the music papers particularly the dance pages there for some weeks now saying that it was going to transform the whole of the nature of dance music and so forth. And I'm not much of an expert in this area, as I'm not much of a dancing man, particularly since the webbing slipped. But I think you'd be hard put to dance to this; but it is a great record."
Another project close to him was Orbital, an electronic outfit from the UK consisting of two brothers, Phil and Paul Hartnoll. He discovered their music when their debut single Chime climbed up the charts in 1990. Peel began to regularly play them on his show, and they gave their last show ever on Peel Sessions.
The irreplaceable music tour guide John Peel will always be remembered for his hard work and passion for discovering and sharing bold and unique sounds, a mindset for many of us to follow and a legacy for generations to come.