In the world of electronic music, there are pioneers who not only shape the sound but also push the boundaries of creativity. Suzanne Ciani is undeniably one of these luminaries. With a career spanning decades, she's garnered five Grammy nominations. Her influence reaches far beyond the boundaries of music, having created iconic sounds for Coca-Cola, designed logos for Fortune 500 companies, and even provided the voice for Bally's Xenon pinball machine.
On the other side of this creative spectrum stands Jonathan Fitoussi, a French composer residing in Paris, whose work has been forging new paths in minimalist and contemporary musical forms. Fitoussi's recent solo works beautifully blend electronic and acoustic sounds into a cinematic aesthetic, offering listeners a journey through melodic textures and emotions.
In this exclusive 'In Focus' interview, Suzanne Ciani & Jonathan Fitoussi share insights into their collaborative process, the influence of nature on their music, and the delicate balance between technology and artistry regarding their first collaborative creation, Golden Apples of the Sun.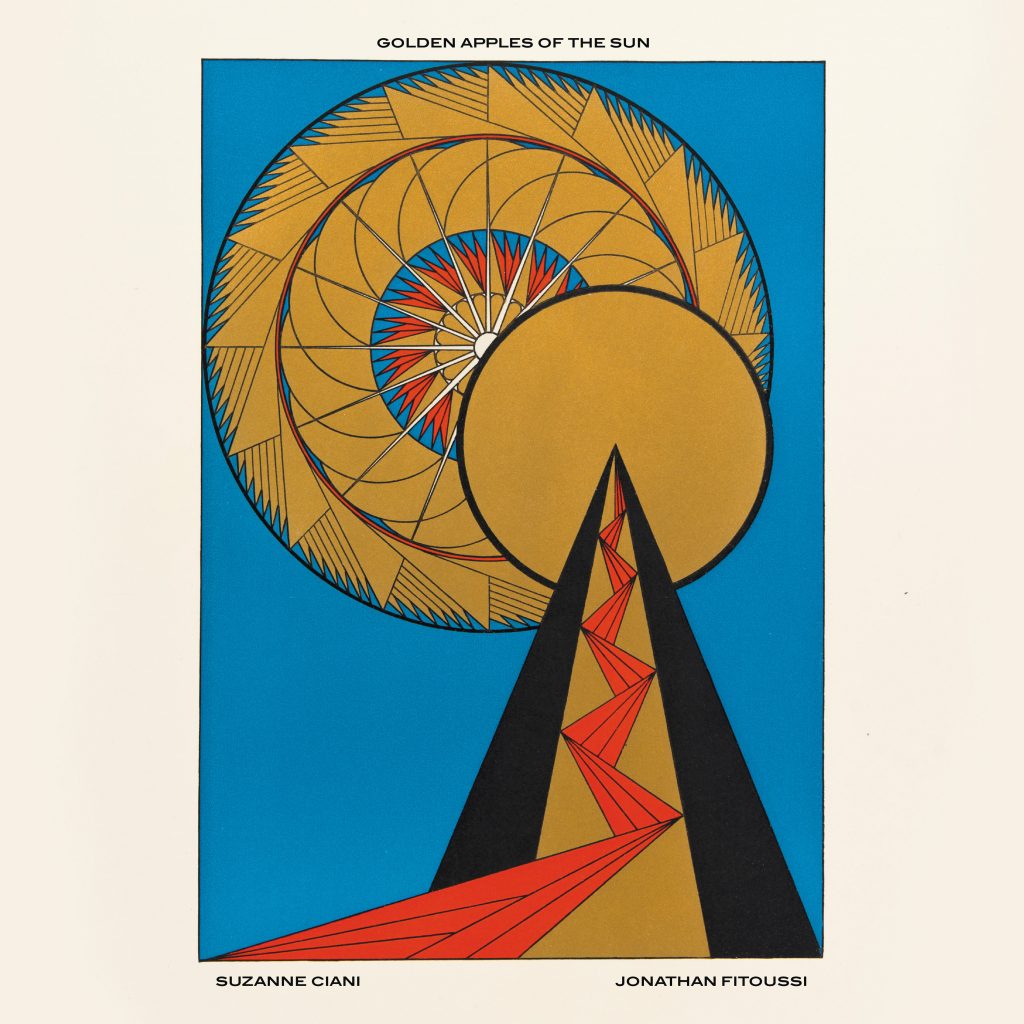 Can you tell us about the inspiration behind the title Golden Apples of the Sun for your collaborative album? What does it represent in the context of your music?
Suzanne Ciani: Golden Apples of the Sun has a couple of distinct references in the context of this album. The line comes from my favorite poem, The Song of Wandering Aengus by William Butler Yeats. It is, in fact, the only poem I know by heart. Jonathan and I had the idea to make a recording of this poem, and so I read it and we integrated it into a mainly Moog Subharmonicon track. The other reference is to Morton Subotnick's seminal record Silver Apples of the Moon. From 1967, it defined a new voltage-controlled classical electronic music.
The album is described as a result of close cooperation between both of you. How did this collaboration come about, and what led you to join forces for this project?
Suzanne Ciani: I was aware of Jonathan as a fellow Buchla player and admired his tastefulness and musicality. We met several times when I played in Paris and also here in California at my studio. During the pandemic, we decided to make a series of pieces by working together remotely and sending ideas back and forth. This started to grow into a possible album and we put the finishing touches on it together in my studio.
Jonathan Fitoussi: In 2019, during a long trip across the American West, I spent a few days with Susan in her house facing the Pacific Ocean, and we naturally started making music together. We hadn't planned it, it happened quite naturally in a very friendly, relaxed atmosphere. Back in France, we went on working separately during the pandemic, each of us in our own studio, and we decided to go on working together to write a real album. So I went back to Susan's in December 2022.
The album was recorded in California, facing the Pacific Ocean, how did the surrounding environment influence the creation and direction of the album's sound?
SC: There is a constant sound of the ocean here that one can tune in or out. It creates an ambiance that is both relaxing and energizing at the same time. I think much of the music has an oceanic flow.
JF: In Susan's house we worked on the rocking sound of the waves breaking on the shore, merging naturally with the white sound of the synthesizers. The power of the ocean constantly pervading the atmosphere in the studio communicates a real energy to the sounds that we created together, it is obvious. On top of that, we enjoyed long walks on the beach between our working sessions.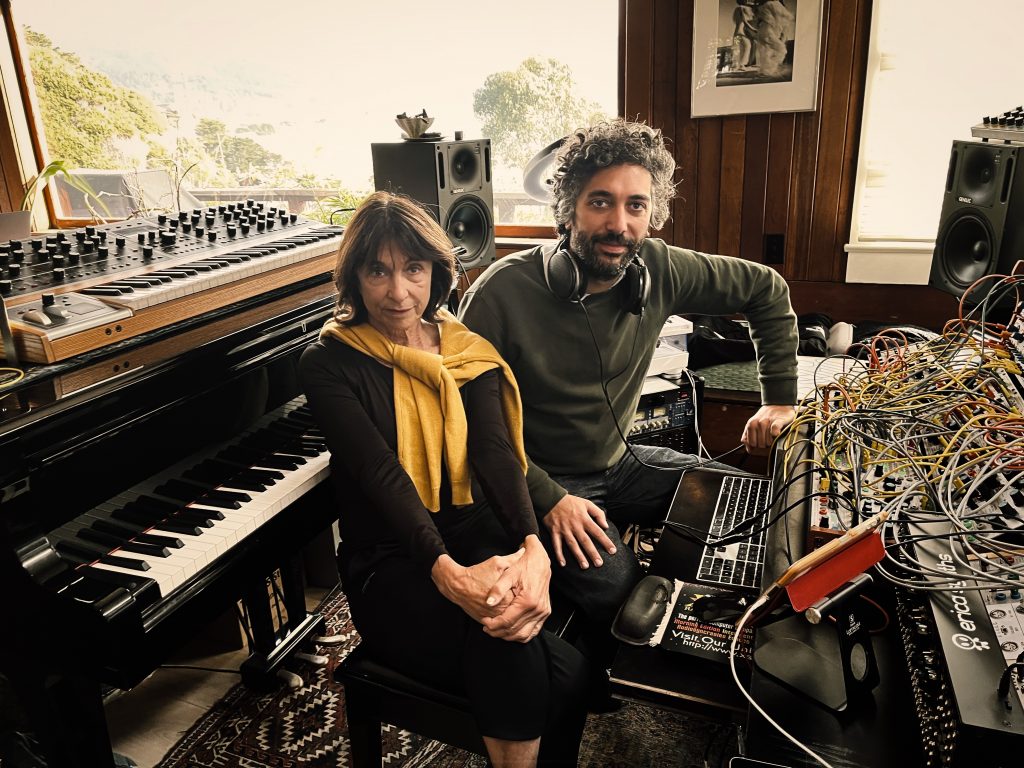 Mythical synthesizers like Buchla, Moog, and EMS were used in the making of the album. Could you share some insights into how these instruments contributed to the unique and organic sound of Golden Apples of the Sun?
SC: My main instrument is a Buchla 200e and my primary use of it is in live performance. I love to capture the aliveness of the voltage-controlled composition as it is created and creates itself. I brought these live "organic" techniques to Buchla in this project.
But another important instrument that I have and love is the Moog One: it has a brilliantly designed interface and the rich textures that a Moog produces and is more keyboard-centric. And the Moog Subharmonicon is featured in this recording on the title piece. It has sophisticated rhythmic control and the signature Moog richness.
JF: At Susan's house we used mainly the Buchla 200e which is her favourite instrument. She has a special link with her Buchla, she plays it with great dexterity and finesse. I use a smaller version of Buchla. We both love its sonorities, they are so organic, so lively. But we also frequently used the Moog One which was in her studio for its very warm sounds. Back in my studio in Paris, I recorded the instruments that have surrounded me for years now, like the AKS synthi for instance.
As two electronic music composers coming from different backgrounds, how did your individual styles and experiences merge to create a cohesive musical vision for this album?
SC: I think our starting point was our shared understanding of the Buchla. In many ways, we speak the same language. As I was interested mostly in live performance, Jonathan brought in the dimensions of overdubbing and also encouraged me to use my voice on several of the pieces. He has impeccable taste.
JF: Susan and I have a common passion for electronic instruments and sonorities. This has created a strong link between us. On top of that, Susan has a very radiant personality, very generous, it was very easy to work with her. It was simple and pleasant. Each of us felt free to play these instruments our own way and these two methods were complementary.
Can you share a memorable moment or experience from the recording process that had a profound impact on the direction or outcome of the album?
SC: I would say that the pandemic had a big impact on this project. Many of my concerts were canceled and I found myself with time on my hands and thus our collaboration grew. In fact, the folder where I stored the growing files was called the Pandemic Project. We could send ideas back and forth. I could always trust that Jonathan would take any raw materials I provided and shape them into the piece.
JF: During the 2019 summer, after several weeks of trekking across the West, I stopped at Susan's for a few days' break. I had traveled across several great parks, through wonderful landscapes, and my head was full of breathtaking pictures.
Just a few hours after my arrival we used the Moog that Susan had just received. It was my first contact with this instrument but I quickly found my bearings and the first notes of "Oceanium" appeared instantly. I wasn't aware that Susan had recorded these first notes and a sequence. This is an unforgettable moment, sharing this first musical experimental session with Susan
With the release date just around the corner, what are your thoughts and feelings about sharing Golden Apples of the Sun with the world? Is there anything specific you'd like your audience to know before they listen to the album?
SC: In many ways, I think this is a subtle album, intimate and quiet. It is personal and I think invites a deep listening, a focus that will be rewarded.
JF: It is an album that we have both enjoyed making with our hearts and pleasure. I hope the public will enjoy listening to it.
Finally, after collaborating on this album, do you have any future plans for more joint projects or individual ventures?
SC: With the pandemic over, I am back on the road with my Buchla. I do have some future projects in mind, but none that I'm at liberty to discuss right now.
JF: I hope we will have the opportunity to play it live, it would mean some preparation, working together before, but yes it would be fantastic to play live together. As for me personally, I have several projects in store for the future and I am working on them.