We've come a long way since the days where seeing your music in a cluttered mess of unwound tape that could take hours to fix was a part of everyday life. Well, those were the days of the infamous cassette tape. If you had the nerves to wind and rewind a cassette tape back and forth (its normal operational design), you also needed nerves to deal with it going haywire and all the tape coming out of the opening at the top. As we know all too well, a pencil or pen was your best friend in those cases. So, hearing that this vile contraption which left so many of us traumatised and with anger issues has been making a slow comeback, is nothing short of a miracle.
The cassette tape is just another relic of the past which has been growing in popularity and demand like the big return of vinyl in recent years. Despite not being as hot of a commodity as vinyl is with audiophiles, cassettes certainly have some quality to be desired. Be it nostalgia, the feeling of having a tangible object to hold and make mix-tapes with, or the overall trend of analogue coming back, cassettes and various other storage devices have recently started making niches of their own in the music industry.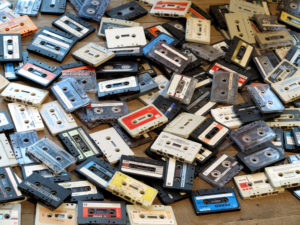 As the compact disk replaced the cassette, so did CD manufacturing plants with cassette manufacturing plants. The demand for cassettes is currently higher than the availability of the actual physical object because there are simply too few plants still making them. Some smart manufacturers, anticipating a return of the cassette, have struck it big. The National Audio Company, operating out of Springfield, MO, is the last audio cassette factory in America with demands for cassette tapes reaching tens of thousands of units every day. As other cassette factories gave in to the diminishing demand of cassettes over CDs, NAC held on and bought out other manufacturers who were not as stubborn. This stubbornness would pay off for the NAC who have seen an astronomical increase in cassette demand in recent years.
Who is to thank for this increase in cassette demand you may ask? It certainly isn't any major artist like Justin Bieber, Nirvana, Or Metallica, even though the NAC has recently released material for all of them and many other mainstream artists. "No, we would not be here doing what we're doing if not for the indie band," said the owner of the company Steve Stepp, in an interview with Rolling Stone magazine. In fact, many indie bands in the U.S. are to thank for the return of vinyl as well. It is common to see vinyl, and now cassettes, being sold as part of their merchandise after shows. In these small, consolidated spheres, enthusiasts share in this value of unique and slightly more organic forms of audio storage over digital. In Connecticut, Hartford local Carolyn LaPierre says "I went to see some small local bands recently, Cheem and Doubles, and they were only selling their music in cassettes. I like that they make me listen to an album in the order the artist intended and don't tempt me to skip around. I'll listen to a full album on a cassette whereas if I play something online, I'll jump around or get distracted."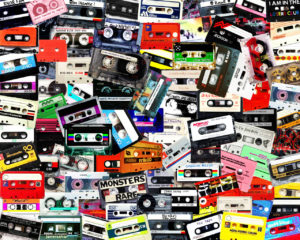 We can't quite say that cassettes are about to replace CDs or dominate as the main audio storage device in the music industry. However, they are slowly starting to take a cut out of vinyl's sales as they are much cheaper to produce. The iconic shape is also quite nostalgic and charming to many who buy phone cases, jewellery, and even tattoos of cassettes on themselves.
Find the top selling cassettes of 2017 below.
01. Soundtrack – Guardians of the Galaxy, Vol. 2: Awesome Mix Vol. 2 (19,000)
02. Soundtrack – Guardians of the Galaxy: Awesome Mix Vol. 1 (15,000)
03. Soundtrack – Guardians of the Galaxy: Cosmic Mix, Vol. 1 (5,000)
04. Soundtrack – Stranger Things, Volume One (3,000)
05. Eminem – The Eminem Show (3,000)
06. Various Artists – The Hamilton Mixtape (3,000)
07. Prince and the Revolution – Purple Rain (2,000)
08. Twenty One Pilots – Blurryface (2,000)
09. Kanye West – Yeezus (2,000)
10. Nirvana – Nevermind (2,000)